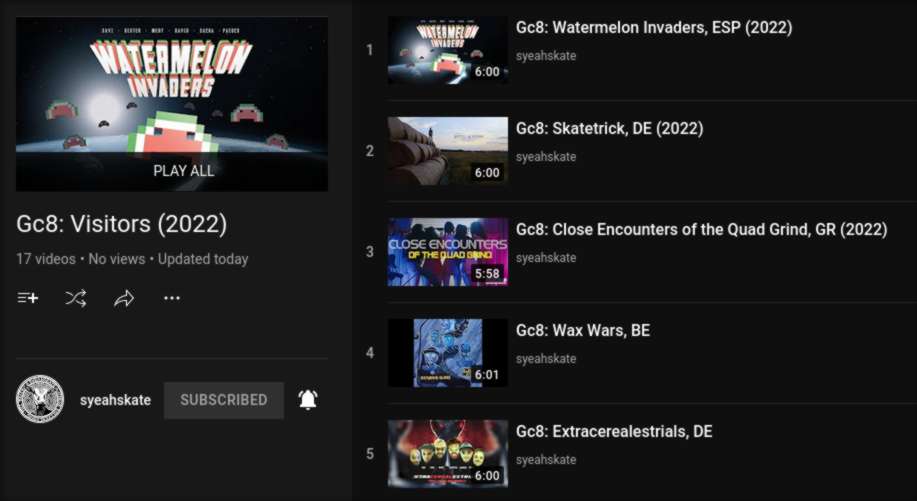 "Transmitting to all cosmonauts out there… Resistance is futile… Grind Challenge 8". You can check all the entries for the 2022 edition of the Syeahskate Challenge here on this Youtube Playlist.
Rules
Make a blading edit in 35 days
3-6 crew members
Complete Challenges for points.
No skateparks.
Gc8 CHALLENGES (The Elders will judge your work in the following order): Skating, Video Aesthetics / Creativity, Humour, Challenge points.
The Top 3 teams will be selected and history shall be written. All the rest shall perish and vanish into obscurity.
---
Gc8 CHALLENGES
THEMATICS (400💎)
Make a "Sci-Fi" themed video. (Just adding random shots from StarWars is not a "theme")
Make a "Comedic Documentary" about your local scene.
AERIALS (50💎)
"180 Liu Kang" a bank (transition) // 540 it for (100💎)
"Grab" to "late 360".
Sickest "Rocket grab" wins 🚀
Try make a "Little Buddha" grab look cool! Tough luck!
"Wallride" a tall street sign. Use any way to get up there! (100💎)
Longest "Gap" wins (100💎) (film with a long lens so we can tell the distance)
Do a "Medspin to Fakie 360" on stairs/drop
Coolest "Launch/Drop" into water wins (100💎)
Drop-in on a wall
ON FLAT (50💎)
Long "Ufo cessslide" 🛸
Do a "540 grabbed Medspin aka Mono"
"Royale Cess" "540" out
"Full torque Cess" "540" out
Do something we've never seen before (150💎)
GRINDS (50💎)
"Rocket makio" on an up-rail / up-ledge. If you gap or drop out (100💎)
"Ufo" a handrail
"True rocket makio"! Aaahh shiit
3 Switch Ups, starting with an "AO Topside"
Longest "Back Sav" wins! So edgy!
"Fastslide" a handrail (100💎)
Longest "Front Torque" wins (grabbed)
Coolest "True Top Porn" wins
"Fish" to "AO fish" // "AO Fish to Fish"-. for (100💎)
"True soul" 540 out the hard way😉
"Powerslide" to Grind
Grind a supermarket cart 🛒
Roll on a square handrail
LOCATIONS (150💎)
Skate a planetarium / telescope or use it as background
Skate a science fiction themed statue/monument/anything or use it as background 🛸
Skate a scientology church.
Skate a ditch
Skate a roof
Do something cool on the shittiest skatepark you can find, shittiest one wins extra (50💎) (You are allowed this once to visit a park!) 💩
WHAT?? (150💎)
Skate the weirdest obstacle/thing/location you can find. Weirdest one wins.
Get out of the train/metro/bus on a stop, do a trick and get back in before it departs.
If you bail close to random people, act dead. If they come close to check you get the points.
Get sparks coming out of your skates. ⚡️(Don't use wheels that spark)
"Fakie Stairbash" on one leg. (Most stairs) 🦵🏼
Find a mom who can "Royale"!
BEST OF' (300💎)
Longest rail
Most kinks in any street spot
Most transfers in any street spot
Best DIY launch for a street spot
Funniest "Meme" on Facebook event
Best line wins (3+ obstacles, easy enders dont count)
Best Bail
RESPECT ✊ (200💎)
If you announced your team on time🕰
if you used a science fiction themed team name
Any injury requiring a visit to the hospital🏥 (Must provide evidence in the video)