GRIND CHALLENGE VII (2021) - 17 teams battle for survival. Proudly organised by Syeahskate.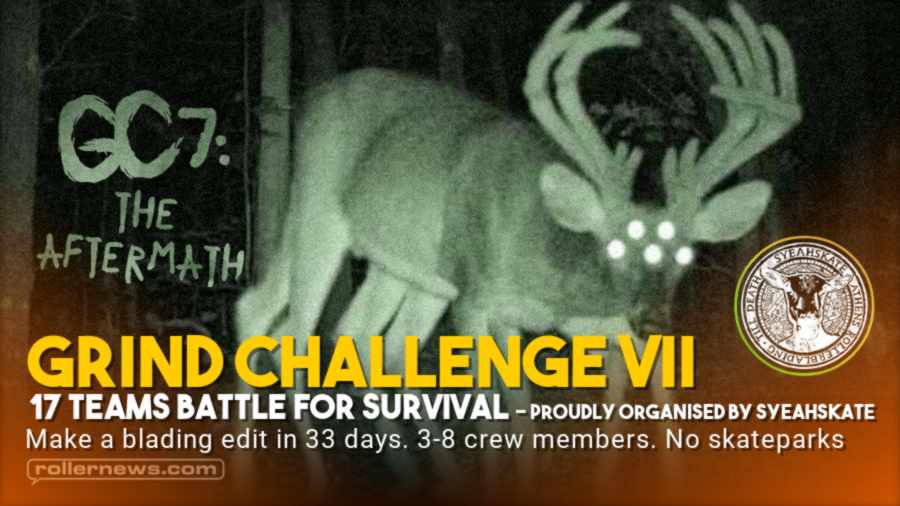 Check all the entries in this playlist.
Grind Challenge VII - Calling out to all survivors around the world. This is THE AFTERMATH. Make a blading edit in 33 days. 3-8 crew members. No skateparks.
Rules
Your edits will be awarded points on:
BEST SKATING (3500 points)
BEST VIDEO (3000 points)
MOST CREATIVE VIDEO (2000 points)
MAKE US LAUGH HARD (1500 points)
CHALLENGE LIST (Feel free to do any or none of them)
// THEMATICS (1000 points)
Make a specific movie –themed edit. Go wild.
Make a short doc that involves your friends/scene.
// BEST ONE WINS (200 points)
Longest Rail wins.
Best Bail - If you break no points
Skitch the weirdest vehicle you can find.
Coolest "Launch" into water! Get creative
Do a cool Matthew Ledoux parkour move
Steeziest "Rocket Fish"
Craziest "Downhill" wins. Don't Die.
Longest cess slide wins!
Grind a kids park slide.
Send a "Rail Transfer" Sickest one wins
Land a "540" on a stair-set
Do a "same trick" line, normal & switch.
"Fakie Stair-Bash" (most stairs win)
Grind the highest spot you can skate.
Post a funny "Meme" on the event page
// AERIALS (50 points)
"180 Wallride to 180 out" on a stairset
Jump over a tall trashcan
Get speed for jump from a bicycle or electric scooter
Do a steezy "That Grab" Don't ask me, research!
Do a 3-step "wall-walk" on a fence.
"Zero spin" over a bench.
Do the lowest legit "Wallride" you can. Get super low.
Do something cool on any non-skatepark Fullpipe
Do a legit Collin Martin "Compression"
// GRINDS (50 points)
Do a "Fish" - Parallel Grabbed. ooohh shiiit
Do a Dan Collins underhook Royale
Do a "270 Unity" - GC6 best Meme
"360 Inspin Mizou"
Any legit "Hurricane" grind
Do a legit "AO Hotdog"
Land a "Fakie 3 True Soul"
Do one full circle on a round rail
Grind to Cess to Grind
Do a long "270 Back Backslide"
Do a 3 grind line. End the line with the hardest trick. If that is lame, no points.
// LETS GET R-TARDED IN HERE (100 points).
Do a Kink dressed up like Farmer.
Land something cool inside a supermarket.
Find a spot with a waterfall in the background. Skate under it and get + 100 points.
Skitch in a go-kart, fast!
Get respect from the police, like a high 5!
Prank a teammate & get a good reaction.
Skate naked!
Tell us a quick joke! If it sucks you lose 50 points.
// RESPECT
If you announced your team on time you start with 500 points
Any injury requiring a visit to the hospital earns you 300 points
// PENALTIES
Any tricks or spots posted online will cost you 1000 points
Deviations from the rules might cost you 500 points
// RIP
In dear memory of our friend and fellow blader Bogos Kapamatzian, whoever sends his signature "Fakie Backflip" on a stair set will be awarded 1500 points
This is THE AFTERMATH