Welcome to the second installment of Plastic Pushers. For this one, we got the best skaters living in the Netherlands (and a Frenchy) lined up for you.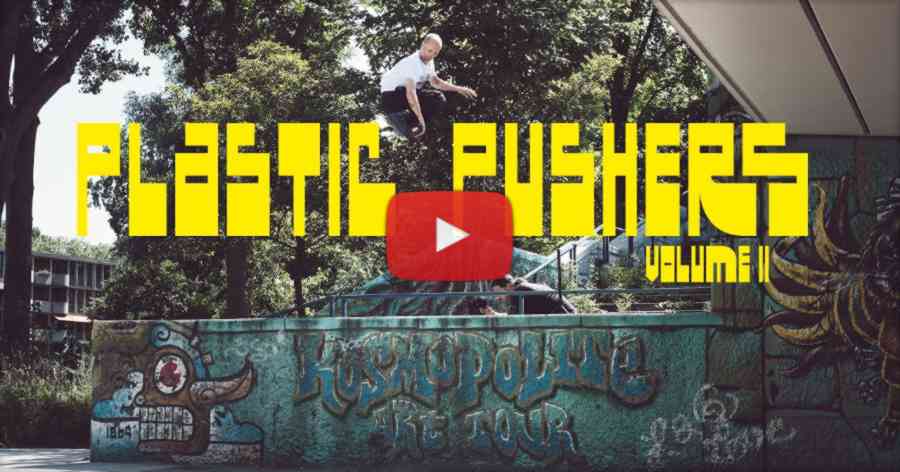 Featuring: Dominik Wagner [2:26], Derk Alberts & Wiboud de Boorder [6:18], Jeroen Wullems [9:58], Davy Wouda & Sjoerd Peters [14:12], Friends [19:20], Roel Fritz & his vert buddies [22:16], The Swizz connection [25:19], Eric van Boven [30:41], Freddy White [31:53], Friends II [36:10], Niels Groenendijk & Ralf van de Kerkhof [40:34], Marnix Haak [43:41], Davie Nijenbrink [47:44], Sven Boekhorst [51:13], Levi van Rijn [55:59].

We had the pleasure to work with these great musicians that gave us (or made specially for the movie) their songs: Jimm Hall - hope is not lost, Siriusmo - Ego, Fay Ray - Heatwave, 912 - SCRD, The Homesick - Male Bonding, Slow worries - Slide, Antillectual - If you are not outraged, Sydney Valette - Safety net, Wantigga -2 shaky feat PRVTE, Love Supreme - Your mind is free, Adriaan de rover - More opinions (and a rainbow), El Fatso - Strikes and gutters, DJ Hyperlink - Pushin (exclusive for PP2), Nu Sensae - Spit gifting, MECCA83 - Storm front (exclusive for PP2), DJ Hyperlink - Flowers (exclusive for PP2), Orville Peck - Buffalo run, Toad Smoke - Heat lamp, Bucket List - Darkest hour. Thanks Ruud Scheerens for your dope intro font and Niels Groenendijk for animating them.
Note: Youtube took the original video down. Here is a re-upload of Plastic Pushers, Vol. 2. Quoting Cavin Brinkman: "We had to re-upload Plastic Pushers 2 due to some music rights and had to cut 1 part out (online on IGTV and Facebook). We would appreciate if you could give the movie a new watch and a like, since we lost all the views and likes. Don't forget to subscribe, and thanks for ALL the support."
Bonus: Plastic Pushers, Volume 1 (2020) - PLAY: Full Movie | Leftovers + Teaser.