Bonjour! Vous parlez francais? Tant mieux! L'interview est dispo ici en FR.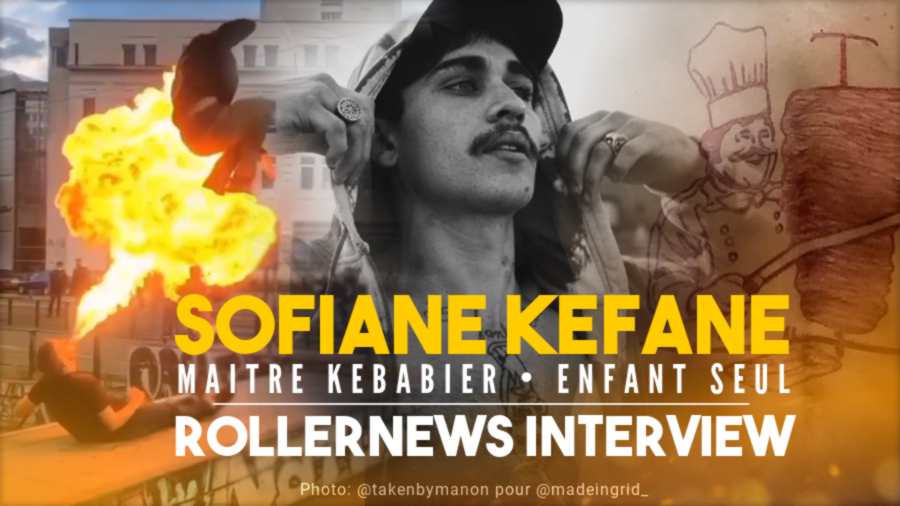 Here is Sofiane Kefane of the Rolling Monkeys, a crew from Nantes, France. Let me take you for a ride. Baguettes & croissants are on me.
Exhibit #01, 2RATZ1CUP - below: Photo by Maxime Hillairaud.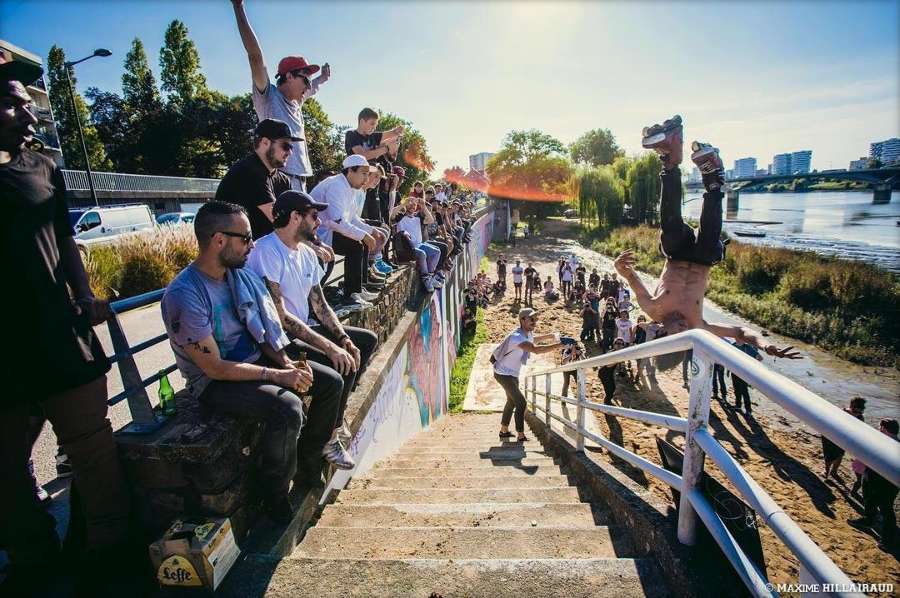 Septembre 2017, the 2 RATZ 1 CUP contest takes place in Nantes, Victor Daum takes 1st place and Sofiane wins the Rookie title ; Sofiane is on fire, and launch a monster trick of his own: PLAY (trick is at 2:05 ; edit by DeLaDuch Studio).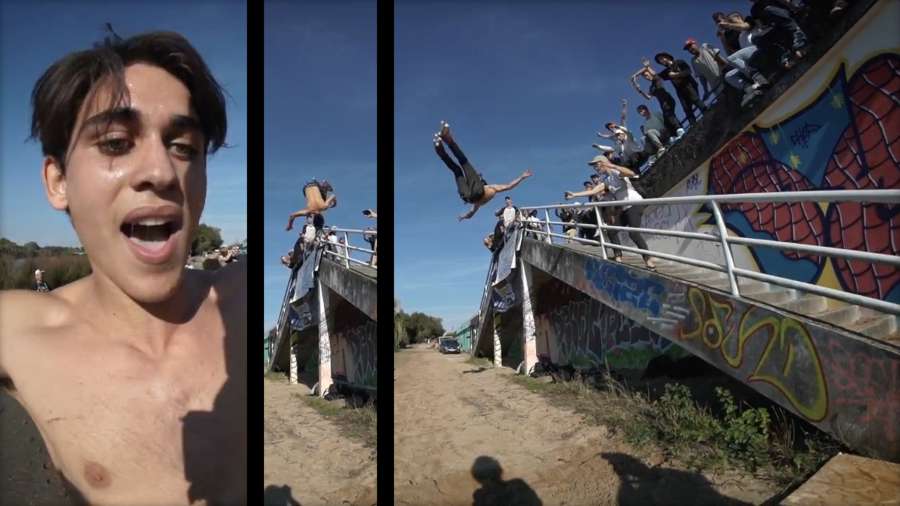 Sofiane: At the time, the frontflip was my signature trick. I followed my good friend Léo, we both pushed each others, the rest is what on you can see on this edit.
Exhibit #02, 540 Barbecue (switch) in the flames of hell, courtesy of par Jonathan Mabileau

Quoting Sofiane: The 540 Barbecue was a child dream, something I always wanted to do: experiencing a fly through fire! My friend Jojo was geared for it ; at that moment, I noticed that the gathering nearby was turning to a riot, it was now or never, this would be perfect on tape!
Exhibit #03, Backflip Gap, Chartrons Skatepark, Bordeaux

Sofiane: Initially I started with a 180 transition that went smoothly, so I decided to try it 360: first try! Why stop here, I laced the 540 but I could not stop, the backflip idea crossed my mind, and I laced it.. first try… I was pretty satisfied, as nobody done the trick before!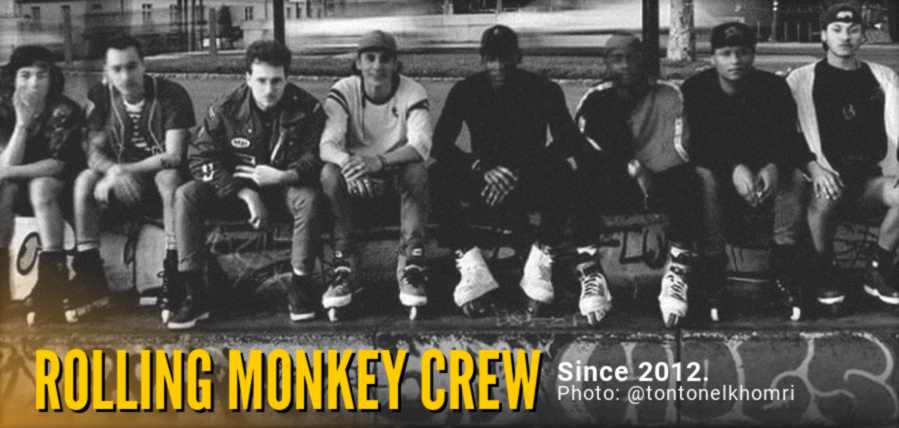 Chapter 1 - Sofiane Kefane - Genesis
Sofiane Kefane follows the path of his two brothers: Yacine is a skateboarder, Kevin is rollerblading. Sofiane is only 4 but his choice his made, rollerblades it is.
Day after day, Sofiane practices his moves on the sidewalk ; he also like to try (quoting Sofiane): "completely stupid gaps" where he lands his tricks on the grass, on pebbles or on the sand (can't stop thinking about that massive gap at the 2 RATZ 1 CUP 2017 contest!).
Sofiane is now 10, his family moves away from the countryside and lands in "Le Mans", a medium sized town in France not too far from Paris ; the skatepark there is quite an upgrade, it's not Woodward, but for starter it has a roof! If he behaves, Sofiane spend his wednesday evening at the park. He quickly gets a pair of Roces 5th Element.
At 12, Sofiane moves again, and skates at 'Le Hangar' skatepark ; 5300 square meters of freedom to express his creativity. He met his life time friends, and join a crew, his crew, the Rolling Monkeys.
Which skaters helped you build the rider you are today ? BONUS: Give us a skating section.
My sensei was: Gregory Breger AKA the bronze surfer, with crazy back backslides. Those who know Gregory will surely know which tricks I borrowed from him (hint: there is a lot)! Hahaha. Section: Gregory Breger - Quebec 2013 by Pierre Ollivier - PLAY.

Here comes Virgile Dos Santos, digusting tricks on disgusting spots, such a lovely combination! Slams at each session, no downtime allowed with Virgile!. Section: Virgile Dos Santos - dob 4 by Pierre Ollivier & Ronan Algalarrondo - PLAY.

It's impossible not to mention Gaston Michel (who came back in Nantes). You had to be there, because each session with Gaston was intense! He made me love mizous & playing with words, the provocative way. I'm so thankful, thanks again Dad!

Damien Gerard left us in august. Damien was a friend, I met him when i was 13 years old at the Bling Bling Contest in Nantes ; he was a unique rider, with a huge personality. Damien helped me pushing my limits, he was there for me in Bordeaux. Rest in peace my friend.

Note: I had to cut the list short, it was way too huge! Kudos goes to Raphael Chevallier, the skate with no switch, Lucas Spenle, Romeo Stocchi, Nicolas Auroux, Papi and a lot more.
Chapter 2, Freestyle Rap - French Edition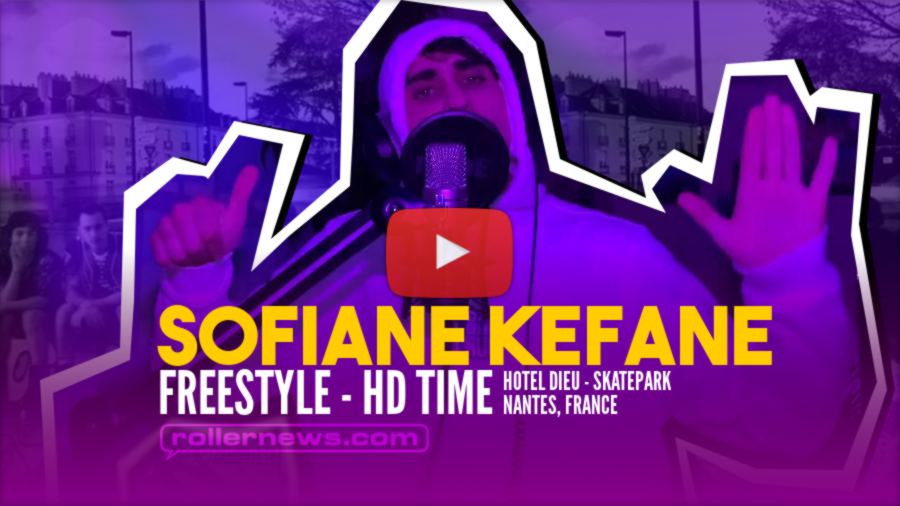 Sofiane is in love with words, here is a title he wrote "HD Time", recorded march 2021. Sofiane speaks about his friends and his adventures at the Nantes skatepark. HD, stands for "Hôtel Dieu", the name of the place (litteraly Hostel God): (PLAY) ; you can check the title on Soundcloud and more titles here: Soundcloud.com/sofiane-kefane.
Sofiane: I'm from the rap school! I quickly understood that skating and rap was compatible ; i started to write when i heard my brother Juda rapping for his 16th birthday ; it was about, you guessed it, friends and rollerblading! I knew i had to rap! The next day, I wrote my first one, I was 15. And it was contagious, the next thing you know, my whole crew, the Rolling Monkeys started writing, we had war cries, our own hymns.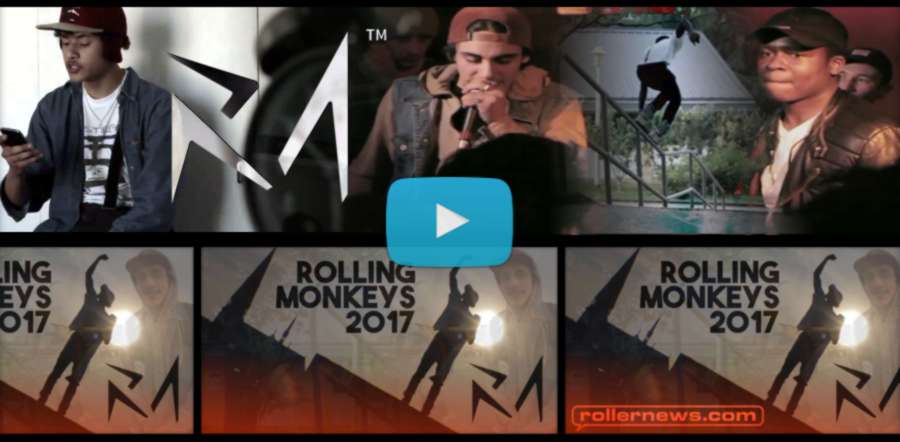 Team Video: Rolling Monkeys - The crew from Nantes (France) releases his team video in 2017, filmed by Franck Steve, Christian Degiovanni & Léo Capoulade. The video featured songs from the team, it's a real pleasure for your eyes & ears. Featuring: Esther Ehanno, Christian Degiovanni, Sofiane Kefane, Arthur Badia, Rémy Leusch, Raphael Chevallier, Franck Steve, Olenn Somah, William Pierre, and, Léo Capoulade, Félix Maheo, Maxime Buaud, Fab Edwood, Roméo Stocchi.
Sofiane is working on a new section: "I'm planning to release a street video with some childhood friends, people who know the blading scene from Nantes won't be disappointed!" WAIT & SEE!
You can follow Sofiane on Instagram, his musical prods are available on Soundcloud.