The second annual Boschi Pope Skate Off on August 27th 2017 at Hamilton Bridge (High Bridge) Skate park located in Washington Heights, Manhattan.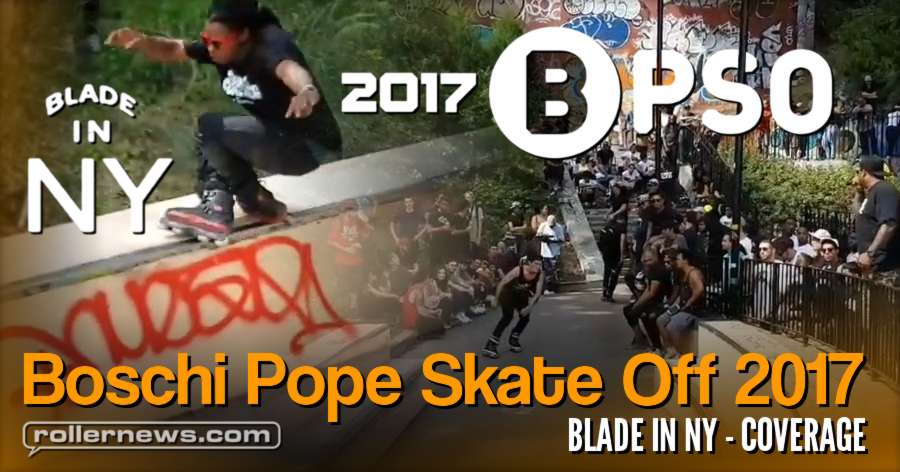 Coverage by 'Blade in NY'.
Results
Alex Broskow
Montre Livingston
Jon Cooley
Bfree
Jon Fromm
The Boschi Pope Skate Off: MORE MEDIA
BPSO 2017 Judges: Billy O'Neill, Boschi Pope, Mike Johnson. Competitors: Ariel Surun, John Vossoughi, Will Lyons, Zack Savage, Chris Dejesus, Nolan Dumeng, Jon Fromm, Jan Teurlinckx, Terrence Henry, David Hartnett, Nick Fatato, Sam Nicholls, Phil Weaver, Edward Braxton, Tadd Labozzetta, Tyler Knight, Peezy Powell, Jordan Baez, Chauncey Jenkins, Dick Martinez, Stefan Brandow, Russell Mason, Airtothe Eigengrau, Ramelle Knight,Kyle Johnson, Alex Ryerson, Arsenio Patterson, Kristopher Craig, Joaquin Fletcher, Samuel DeAngelis, Jake Gillman, Ivan Higgins, Sean Grossman, Chantz TheSkater, Sam Williams, Brian Weis, Edwin Urena, Troy Hanner, Zach Cramer, David Caba, David Herrera, Ian Copp, Kevin LeBron, Jesus Medina, Michael McCormick, Korina Calderon, Isaac DeSanto, Joshua Weaver, Ethan Shipley, Russ Solorzano, Robert Serrano, Brent Scherer, Nathan Pacheco, Chino Sin, Jonathan Ortiz, Andrew DiPaolo, Kyle Godden, Brian Freeman, Jerry Butler, Henry Urena, Luke Naylor, Michael Scott, Earnest Brown, Trace Sexton, Adonis Taylor, Young Juice, Andy Leitermann, Andrew Torres, John Williams, Alex Broskow Jon Julio, Michael Lashore, Robbie Pitts, Chris Diaz, Eddie Chung, Derek Lintala, Derek Carr, Matt Ragone, Montre Livingston, James Perez.