WRS Uploaded 2011 - Results - Fan Votes
Nils Jansons - PLAY (Filmed & edited by Martins Jansons)
Chris Haffey - PLAY Filmed by JC Rowe, Ivan Narez, Beau Cottington & Nick Wood ; edited by Brian Griffin. Song: Jay-z & Kanye West – Niggas in Paris.
Nils Jansons 63.1% (7380 votes). Fan Favorite: $500.00 vs Chris Haffey 36.9% (4324 votes)

Semi Finalist, Fan Votes: Sven Boekhorst (PLAY) Filmed by Dominic Swagemakers, Joery v/d Pol, Simon Goeman, Dick Heerkens & Jan Hoogtijling ; edited Axel van Dijk & Brian Aragon (PLAY) Filmed by Phillip Long, Dre Powell, Max Manning, Erick Rodriguez ; edited by Phillip Long.
Results - Judging
Judges Votes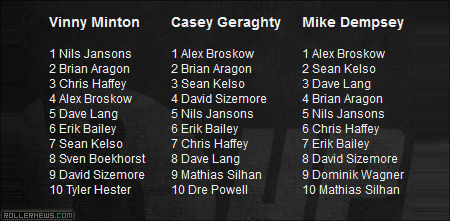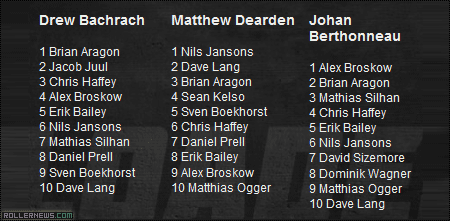 Judging is based on the following criteria (in order of importance):
Difficulty. Difficulty can be applied to a stunt, line or a single technical trick. Clips will also be judged on the overall situation including; size, run-up, landing, weather, traffic, etc.
Style. Competitors will be judged on style, confidence, control & speed.
Spot selection. Submissions will be judged on the variety, type, difficulty and visual appearance of obstacles.
Production value. Production value includes the filming, lighting, audio, music and editing of the video.
Character. Character combines all of the above elements and evaluates the submission on overall entertainment and likability of competitor.