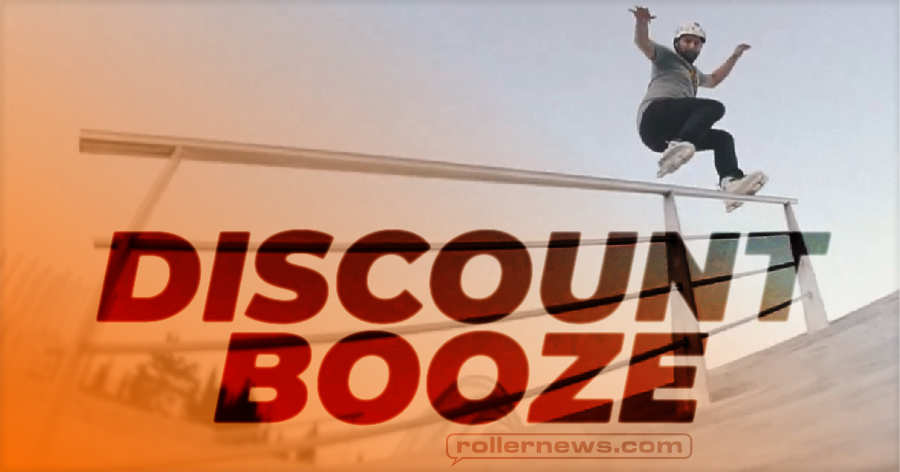 We were dreaming about a new Bulgarian rollerblading film for so long. This is how the idea for DISCOUNT BOOZE was born. We put our hearts, a lot of energy, blood and sweat to make it happen. There are no words that can describe how grateful we are to every person who took a part and helped us to turn the dream into reality!
Go grab your favourite booze and enjoy 30 minutes of skating by more than 50 rollerbladers from Bulgaria, all over Europe and beyond! We are extremely happy the dream became true and DISCOUNT BOOZE is finally here!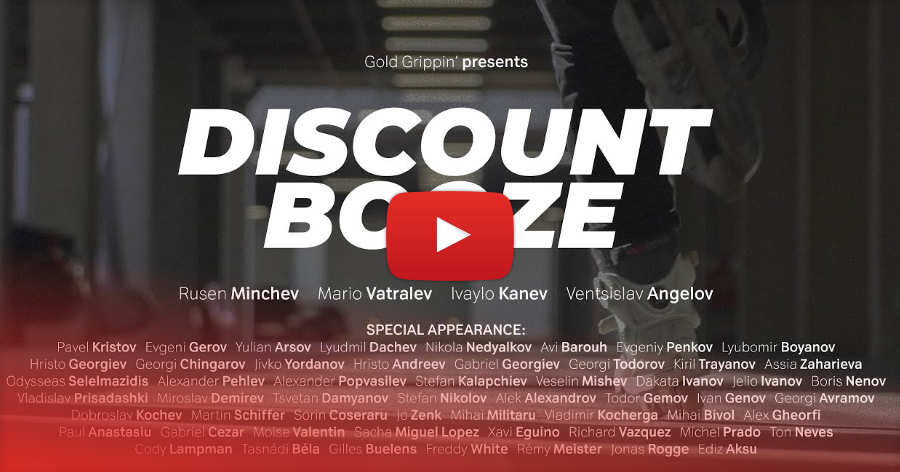 Discount Booze - PLAY: Leftover Footage | Trailer 1 | Trailer 2.
Featuring: Rusen Minchev, Mario Vatralev, Ivaylo Kanev & Ventsislav Angelov. Special appearance: Pavel Kristov, Evgeni Gerov, Yulian Arsov, Lyudmil Dachev, Nikola Nedyalkov, Avi Barouh, Evgeniy Penkov, Lyubomir Boyanov, Hristo Georgiev, Georgi Chingarov, Jivko Yordanov, Hristo Andreev, Gabriel Georgiev, Georgi Todorov, Kiril Trayanov, Assia Zaharieva, Odysseas Selelmazidis, Alexander Pehlev, Alexander Popvasilev, Stefan Kalapchiev, Veselin Mishev, Dakata Ivanov, Jelio Ivanov, Boris Nenov, Vladislav Prisadashki, Miroslav Demirev, Tsvetan Damyanov, Stefan Nikolov, Alek Alexandrov, Todor Gemov, Ivan Genov, Georgi Avramov, Dobroslav Kochev, Martin Schiffer, Sorin Coseraru, Jo Zenk, Mihai Militaru, Vladimir Kocherga, Bivol Mihai, Alex Gheorfi, Paul Anastasiu, Gabriel Cezar, Moise Valentin, Sacha Miguel Lopez, Xavi Eguino, Richard Vazquez, Michel Prado, Ton Neves, Cody Lampman, Tasnádi Béla, Gilles Buelens, Freddy White, Remy Meister, Jonas Rogge, Ediz Aksu & more.

Producer: Gold Grippin - Digital Production Collective (Goldgrippin.com). Director: Rusen Minchevnn. Camera: Gabriela Mineva, Rusen Minchev. Voice: Brian Shima.
Music: Rone - Brest, Gallowstreet - Asterix, D.R.A.M. - Gilligan (feat. A$AP Rocky & Juicy J), Magic Wands - Black Magic, Los Bitchos - The Link Is About To Die, Elton John - Saturday Night's Alright For Fighting, Engelwood - Puerto Rico, Panjabi MC - Jogi, KVVV3 X SWAY55 - Journey Into Sound EP. Duration: ~30 min.
DISCOUNT BOOZE is absolutely free so if you liked it you can support us and our future projects by donating some bucks to our Paypal. We will be beyond grateful! LONG LIVE ROLLERBLADING! ONE LOVE!