Fallon Heffernan had a major knee injury in March of 2014 (torn ACL, meniscus, MCL, shin fractures, and an infection causing hospitalization) while filming a blading edit promoting her first ever pro model wheel.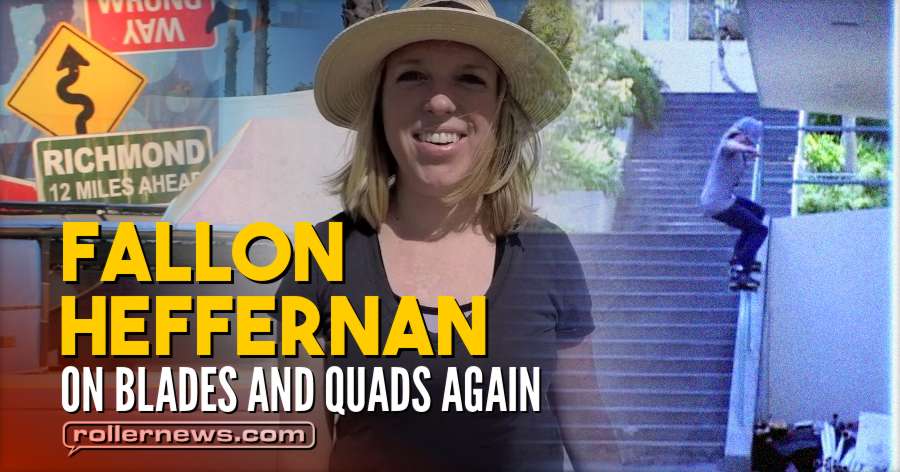 She had 4 major surgeries to repair the damage done to her bones and ligaments over the course of almost 2 years due to severe surgical complications. She was told by her 2 surgeons that it was unlikely she would ever be able to skate again and she would be lucky to walk properly without chronic pain one day.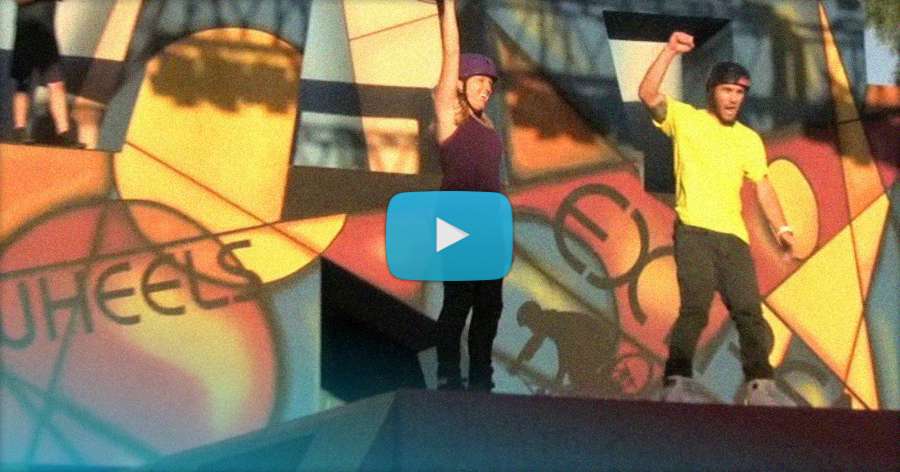 Just within a single moment, she went from spending a lifetime doing big stunts on wheels and earning a living skating - to struggling to work her way from a wheelchair, to even walking and being lightly active again.
At age 30, Fallon decided to try to defy the odds and overcome the difficult challenges presented by her injuries throughout her career (13 total orthopedic surgeries) by joining a roller derby team in Santa Barbara, California only 1 year after her final knee surgery, with the goal to just have fun hoping to be able to get that feeling of her passions again to whatever level she could. After patiently taking her strengthening and physical therapy slowly step-by-step, she decided to attempt aggressive inline skating again, and placed top 3 in 2 different events at her first professional competition back on blades a few months ago, after 3 years without skating on ramps a single day.
Fallon's 28 year career started with rollerskating at a local roller rink when she was age 3 and began inline skating at skateparks by age 7 in Jacksonville, Florida. She became a professional aggressive inline skater in 1999 at age 13, and since then has accumulated 3 X-Games appearances (earning 2 medals), multiple ASA and LG World Championship titles, a CW Supergirl title, the Winterclash title, and placed in the men's finals at the Asian X-Games in China and the Bittercold Showdown, among other accolades throughout her career. She also performed in 5 years of extreme sports shows across the USA.
She recently fell back in love with rollerskating, where she started on wheels to begin with, before her 15 year professional rollerblading career began. After also taking an interest in skatepark quad rollerskating and falling in love with the community of a whole new sport, she became an athlete for top-level rollerskating sponsors at the start of 2018, at age 31!
This video was made for her announcement back to elite-level competition for her new sponsors' team talent show feature. It is a mix of highlights of her on both inline and quad skates, and shows a little of her silly and social personality. It features park and street footage of her Blading from 2009-2018 and aggressive rollerskating the past 2 months in 2018.
She still rollerblades often, in addition to aggressive rollerskating and playing roller derby for the Brawlin' Betties. She is a University of San Francisco psychology graduate and was a Track and Field student-athlete representing USF. She is now earning her Master's Degree in Social Work from California State University. She is married to a 5th grade teacher in Santa Barbara living with her and her 2 cats. She says she is extremely grateful for every day she can use her legs to do what she loves most passionately once again, and looks forward to skating as long as her body allows her!
She is now sponsored by "Bont" quad rollerskate boots, among a team made up of Olympians and Team USA Roller Derby riders, as well as Athena plates, and Big Foot brand slider-blocks (grind plates).
Also featuring doubles runs with Chris Haffey. Filmed by: Rene Castaneda @bitzy18, Megan Heffernan @meganheffernan88, Nicole Van Ness @n_ness, Haley Nemra @haley_nemra, Andrea Alvarez @cinco.de.mayhem. Music: No Doubt - "settle down".