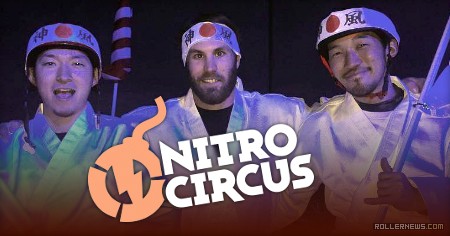 Nitro Circus inline superstar Chris Haffey was joined by two very special guests for the two Tokyo shows on our quick four-stop tour of Japan.
Brothers Takeshi Yasutoko and Eito Yasutoko are aggressive inline vert skate champions from Japan. Inline fans will need no introduction to these two. Between them, they have won as many as 20 gold medals at the X-Games.
Takeshi holds the Guinness World Record for being the youngest X Games athlete ever ; he was 11 years old when he made his first appearance at the games in 1998. It was incredible having them with us, and we can't wait to perform with them again in Osaka. - Nitro Circus.
Article on Nitrocircus.com (link down).