SSM proudly introduces Maxwell Alexandre, directly from Brazil, the winner of Since Now on-line contest, to the Bloodline!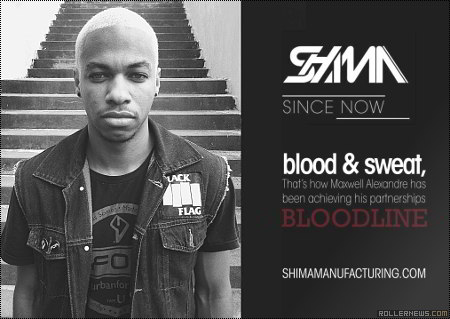 We knew from the moment we saw Maxwell's entry for the Since Now contest he would be the winner. What we did not know is how much commitment and drive we would see from him within the next year.
Video on Youtube: PLAY.
Maxwell has the talent to be sure, but he also has undeniable heart and passion for skating and the skate culture at large. For the past year we have been able to see Maxwell's devotion to style and eye for design after a while we knew Max was made for The Bloodline.

As always we strive to see our brothers not just for their talents in skating, but their drive to contribute back to our community. Maxwell was cultural brother when he entered Since Now, our brother in purpose always, and now our brother in Blood. Check out Maxwell and our other Brazilian Brothers at Vanguarda.
Music: Ella Fitzgerald – The Girl From Ipanema, Jimi Hendrix – Midnight. Filmed by Raoni Azevedo, Vitor Machado, Raphael Medeiros, Felipe Zambardino, Daniel Santos, Kaia Malaghini, Samuel Alexandre, Kalleo Hipolito, Mano Brandrao and Fabio Mad. Edited by Maxwell Alexandre.