Don Bambrick, Razors and Vibralux Denim Pro as seen in the Razors Team Video Icons.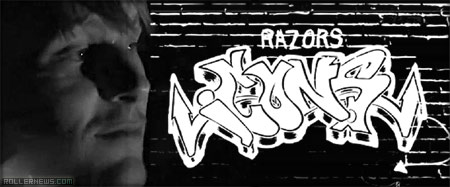 Don Bambrick and I filmed this in attempt to make him jump from flow to pro. Andy Wegener told him after the Accidental Machines premiere that if he kept up doing those big gaps there could be a spot for him on Razors. 1,5 years later Don leads the polls for the next Razors pro skate and hasn't showed any signs of slowing down. His pro Street Artist wheels, that's right 2, drop in 4 weeks. - Adam Johnson (2009).
Don Bambrick - Icons Section: PLAY. Icons, a Razors Team Video - by Adam Johnson and KFC Productions. Featuring Mike Murda Johnson, Don Bambrick, Dre Powell, Brian Aragon, Stefan Horngacher, Eric Perkett, and more.