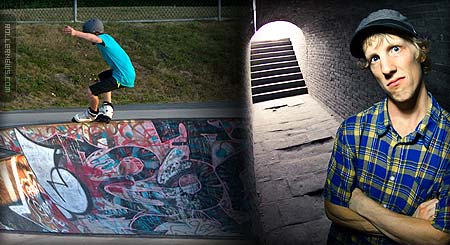 1. Beyond deciding to wear a helmet following your head injury, have you also modified your style of skating since the injury? If so, how would you describe the change?
I put a lot more thought into my rollerblading now.
2. The process of rehabilitation after an injury is just as much psychological as physiological. How would you describe the highs and lows of coming back after a serious injury? Was this process much different for your head injury rehab than for previous injuries, how so?
Oh my! I've never had an injury that can even compare to my head injury. Usually it's been "my body feels better, I'm ready to blade." The physical part of my healing process was luckily deleted from my memory and there's not much to talk about there, other then I heard it was a very rough road, not only for me but everyone around me.
The mental healing is what I've been dealing with since the injury. It's been a very new and confusing ride I've been on.
After the injury, my mind was set on never blading again. Nine months of having that mind set was a very depressing time for me. I've never been as low as I was during that time.
My mom noticed I was missing something in my life and needed to change the way I thought. I don't know the exact words she said but it went something like this, "Cameron you need rollerblading in your life, take what happened and learn from it."
Since then I've figured out a few things I needed to change: Never get frustrated with a trick, the moment I'm not enjoying the act of rollerblading is the moment of going against the reason I do it. If I have to hit something or bang my head to get juiced to do the trick I'm not calm enough to be as focused as I would like. Any doubt means I shouldn't be trying the trick. As long as I'm mentally capable of trying a trick then I know I've got it. I don't push past the signs of getting hurt. I'm also able to stop trying a trick without worrying about it. Those are some of the way's I've been able to mature from my injury. […]
Check the full Cameron Card Interview on Archive.org.