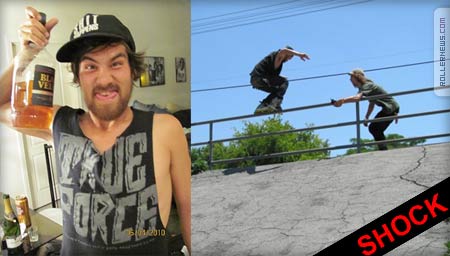 When most people think of Vegas they think of the Strip, neon lights, gambling… the asshole of America. Is this an accurate picture? As a local, how do you relate to this picture?
The area that consists of Las Vegas is huge (the strip being a small fraction of the city), and this isn't counting the surrounding cities of Henderson and Boulder City. It's like a 50 square mile island surrounded by desert instead of water. There are a considerable amount of skate spots that have been found and even more uncharted territory to be conquered. So physically, I would say no…
As far as the caliber of people, I would say that "asshole of America" is a fairly accurate description. Fortunately, the niche of people that I am blessed to be involved with on a regular basis is very down to earth. Outside of that, I find it difficult to meet people here that don't trip my douche bag alarm some way or another. My particular favorite is the mutated-westcoastern-guido breed that seems to be ever prevalent in these parts.
Being a local in the city that never sleeps has its advantages though. Since it's a 24 hour city, we have no last call. Most bars don't even close. It rarely rains, hence it being a desert. If out-of-towners visit, we have a wide variety of goofy attractions to offer (i.e. Bellagio water show, Helicopter rides to the Grand Canyon, Rooms with wall to wall trampolines.) It's kind of bittersweet; I love and hate this place. […]