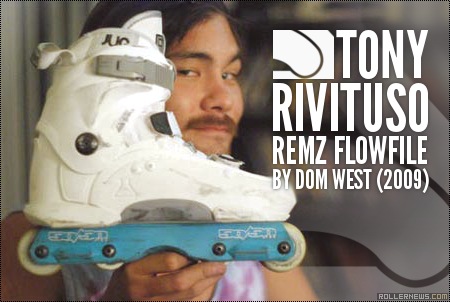 We skated with Tony Rivituso for a week in California and a few sessions in Las Vegas. - Dom West. Video on Youtube: PLAY.

Music: The Oscillation – Liquid Memoryman. Thanks Kato. Facebook Thread
Tony Rivituso - Interview on Remz.com (2009)
Whatup Tony, introduce yourself plz
My name is Tony Rivituso, I am 25 years old (26 in November!) and have been skating for 10+ years. I've been known to grom out on "insert bad-ass pro's name here" now and then, and I'll always respect what the legends have done for our sport. But it's the homies that always inspire me to skate the hardest.
How is the Rolling scene in your beautiful city?
I live in Las Vegas right now with my two roommates Brett Walters and Jeremy Cloe. We're the resident blade house so if you're out here, hit us up! Vegas has a pretty healthy scene with a lot of younger dudes holding it down for the next generation. […]
Interview on Remz.com (saved on Archive.org).