An Oldschool skate video by T-Bone Films ; guest editor: Bryan Bell (RIP).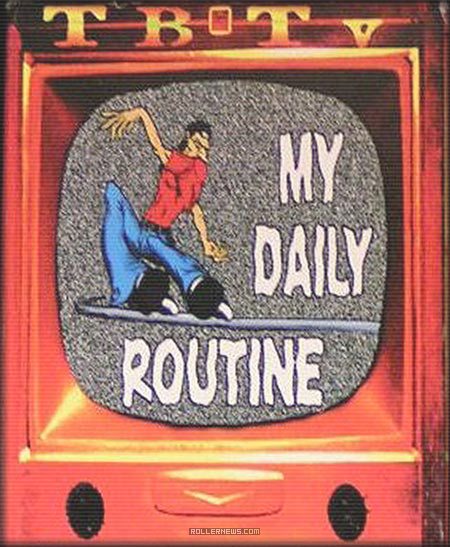 Bryan Bell's late 90s video "My Daily Routine" is a certified classic. It's the perfect place to kick off a column about blade treasures from the past.
"My Daily Routine" looks exactly like what it is, a bunch of friends going out and fucking around with a video camera. It makes skating look like a lot of fun and doesn't take itself too seriously. It is full of shots filmed with poorly-sized fisheye lenses, lines on small ledges and benches, 360s off of curbs, graffiti, break dancing, booty shakin, boozing, fights, enough mushroom blading to make those guys from Vancouver proud, homemade bombs, and plenty of other shit to make your mom upset that she bought it for you.
All of that B-roll helped keep the video interesting and added to the flow of it. It was always a favorite of my friends that didn't blade… […] Full Article on Oneblademag.com.
Video Playlist on Youtube with profiles of Louie Zamora, Armand Marchand, Eric Schrijn, Kevin Karis, Ernie Villarino, Josh Petty, Nik Poderick, Champion Baumstimler, Bryan Bell & more.