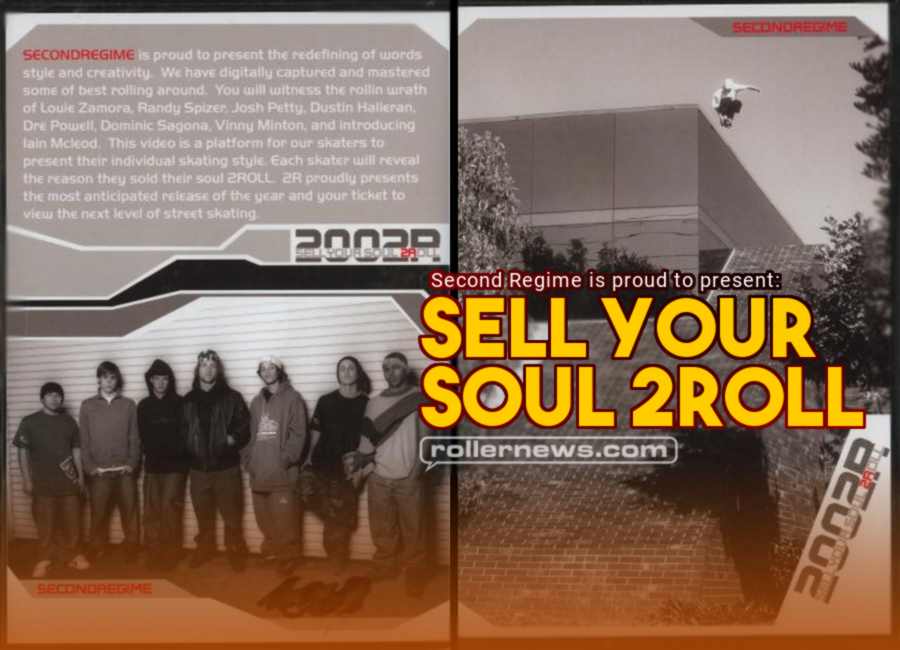 Second Regime is proud to present the redefining of words of style and creativity. We have digitally captured and mastered some of best rolling around. You will witness the rolling wrath of Louis Zamora, Randy Spizer, Josh Petty, Dustin Halleran, Dre Powell, Dominic Sagona, Vinny Minton, and introducing Iain Mcleod.
Full Video - PLAY: Youtube | Vimeo - Sections - PLAY: Intro | Dustin Halleran | Louie Zamora | Dre Powell | Vinny Minton | Josh Petty & Friends | Dominic Sagona | Iain Mcleod | Randy Spizer | Credits.
This video is a platform for our skaters to present their individual skating style. Each skater will reveal the reason they sold their soul 2ROLL. 2R proudly presents the most anticipated release of the year and your ticket to view the next level of street skating.
Soundtrack Listing
Intro: Blue Sonix – Devil Inside.
Dustin Halleran: Prodigy – Keep It Through.
Dominic Sagona: Adam F ft. M.O.P – Stand Clear.
Vinny Minton: Ghostface Killah – Mighty Deadly.
Randy Spizer: J Treds and Louis Logic – The Priciple.
Louie Zamora: Stretch – Why Did You Do It.
Iain Mcleod: Defari – Focused Daily.
Dre Powell: So What Records ft. AGAO Chez B.A. and Garo – On the Grind.
Josh Petty: LMNO – Grin and Bear It.
Friends: Dilated Peoples – Worst Comes to Worst.
Credits: Talent – Gone.
Soundtrack courtesy of Rollingvideos.