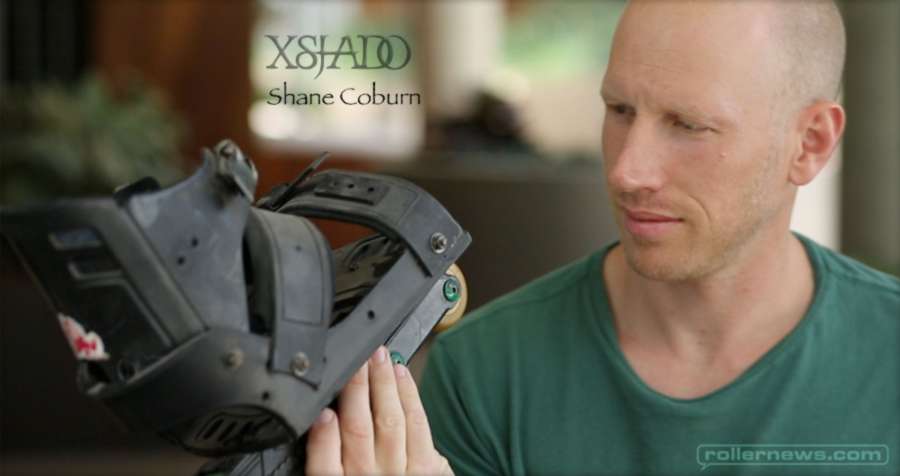 up: Shane Coburn and the Xsjado prototype.
Some might argue that this word is pronounced as X-eS-jay-dough. To the Blader's that know, this word is a progressive way to pronounce Shadow. Like this brand's name, it represents in many ways the culture that this company is all about.
Shane Coburn, an inline skating guru, enjoyed snowboarding during the winters. After accidentally picking up a snowboard binding that got mixed into a box of inline skates while looking for a pair of cuffs, the idea of marrying a cuff to the boot was burned into his brain. He added an inline frame and the product was generations in advance.
Coburn, working for Senate wheels at the time, went off to do his own wheel project called Medium. From here he met Dustin Latimer, arguably one of the best Professional Blader's that ever existed, and they began to develop a revolutionary wheel company called, Mindgame. Meanwhile, Coburn continued to try and find the right place and timing for this new skate product he had in mind and soon connected with another outdoor sports manufacturer, Salomon.
With Dustin Latimer's Blading being generations ahead of its time, he was very helpful in engineering a new inline skating product that provided an all new experience. The design was to have the skater attached to the soul, providing better mobility. Along with another Professional Blader that was ahead of his time, Chris Farmer, they were able to demonstrate the ninja capabilities with these new skates that attached to your shoes, we call Footwraps.
Salomon later moved out of the Inline outdoor activities, with Coburn and Latimer retiring soon after, and handed the technology to Powerslide whom continues to make Xsjado Skates today. Mike Obedoza now overlooks the brand for Powerslide and with Chris Farmer, continues to support the offspring from these pioneers that are the most progressive Street Blader's in Blading today.
Source: Xsjado.com