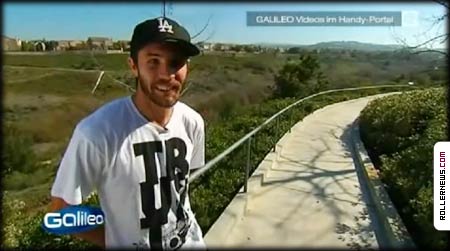 Chris Haffey was featured on a "fake or real?" type of show on Pro Sieben (German TV). They saw his infamous 666 Rail clip on Youtube (originally from Lonnie Gallegos' video NOISE) and went all the way to Los Angeles so Chris could prove he could do it again.
Check the broadcast on Vimeo: PLAY - a fully translated transcript of the video is available here (check the description). Thanks Al Dolega & Meatlove.
666 Rail, Original Video on Youtube: PLAY - The 666 Rail by Chris Haffey and Robert Guerrero, from Lonnie Gallegos' 2002 video NOISE.