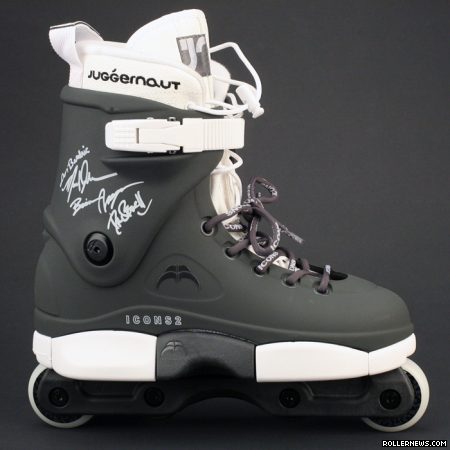 Razors ICONS 2, the second skate in a series of the groundbreaking Superlight skate generation, has once again set new standards for aggressive skates. Razors has made this revolutionary skate even better: Including a brand new Jug liner which is specifically designed for the ICONS 2 and features 50 % thicker padding, increased front support, flex and ergonomically designed ankle shape, heel and tongue areas, improving the overall support, comfort and ease of use.
The reinforced baseless boot design significantly increases the feel of the skate, lowers the center of gravity by reducing the layers between the foot and ground and resulting in a surprisingly light weight boot. A perfectly pre-grooved and positioned backslide plate combined with a flat grinding area and smooth transitions delivers almost effortless performance of tricks such as backslides, royals and torques.
The result is a super responsive, user friendly skate that makes any boot/soul trick easier, creating a whole new skating experience.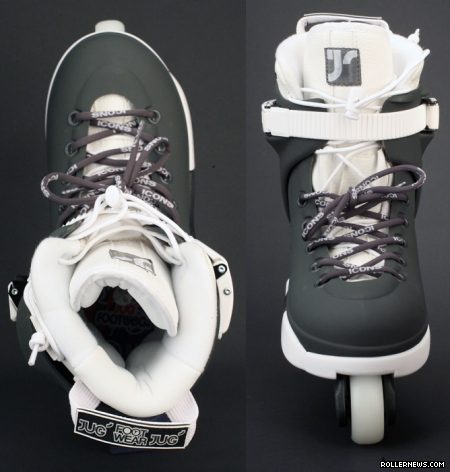 New Features
new Jug liner
50 % more padding
perfect flex
improved cuff
stronger soul frame
Other Features
Baseless boot design
Perfectly pre-grooved backslide plate
Replaceable soul sliders
Jug Shock Absorber Footbed
GC Featherlite frame
56mm/90A wheels
MAP: 299.90 - Boot only: 239.90
Razors Icons 2 – Official Release, Video Edit: PLAY