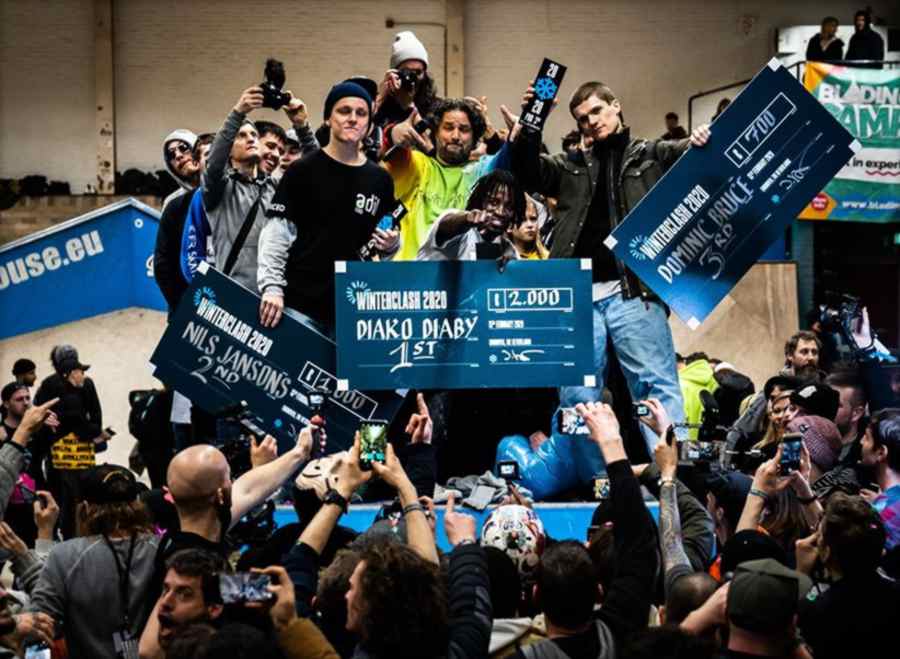 Photo: Greger Flak.
Pro
Diako Diaby
Nils Jansons
Dominic Bruce
Robert Spassov
Antony Pottier
Tomek Przybylik
Yuto Goto
Maxime Genoud
Diego Guilloud
Gabriel Hyden
Montre Livingston
Women
Chihiro Azuma
Armelle Tisler
Patrycja Najda
Daniela Andrea Salgado Martinez
Mery Munoz
Emi Parejo Escobar
Misaki Katayama
Liene Nulle
Junior
Noboru Katayama
Szymon Ziemicky
Samuel Obst
Valter Kreiss
Max Arthur Collier
Kristofers Rudzats
Carl Emil Melander
Amateur
Sven Ischen
Stefan Selders
Nils Rinas
Ren Fujiwara
Andreas Johansson
Tomasz Kwiecien
Ilia Savosin
Kamil Gruba
Michael Müller
Jan Fehlmann
Jacob Jansson
Jaylton Karllus
Ivan Chanchikov
Leandre Fabri
Zachary Pollak
Awards
USD Best Trick Award: Dominic Bruce
Sola x Dead Most Creative Trick Award: Jacob Jansson
Skatepro Best Sign Award: Pascal Gastrock
Judging Winterclash is difficult. But just like every year, Winterclash judges took the time to write a detailed report about their work to give you an idea about the how, why and who. The extensive judging report can be found HERE as a .pdf. Judges: Friederike Charlotte Reisch (Ger), Michael Buhl Jonassen (DK), Sebastian Gruba (PL).