Today is a sad day for all the bladers in the world, our friend and Flow rider from Spain, Gilbert Gonzalez from our spanish team died on Monday, October 3rd 2016 after a hard fall on his head while riding street in Malaga, he spent some days fighting for his life but his injuries were too bad and he left us to keep blading forever.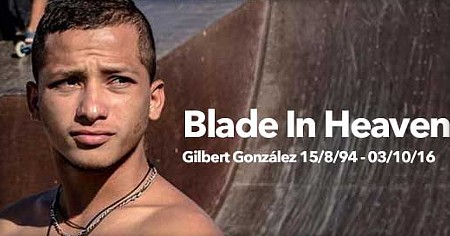 With just 22 years old, Gilbert was full of life and wishes, always smiling and pushing his skating to the limit, like a true shredder. We had big plans for you on the spanish team and now you've gone, Gil. We will always remember you, blade in heaven friend. Our hearts and prays are now with Gilbert's friends and family. - Razors (Facebook Thread).
No Limits – Gilbert Gonzales, Video on Youtube: PLAY - A Rollerblading video by Michael Pedersen in Malaga, October 2015.