Sunday, January 15th, 2017
Filmed & edited by Tyriek Gibson.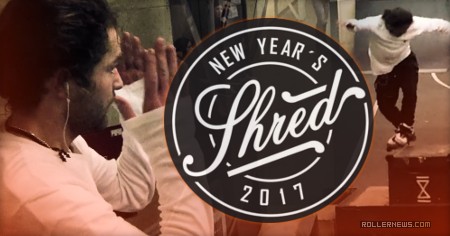 From the Shred Cologne Facebook event page:
The best way to start the year of 2017 is to come together and having a huge jam session with all you blading friends from Germany and the Netherlands. For this day we will have a Miniramp Jam, a Half pipe Jam and again a DIY Skate park Jam which is a new experience every year. This is the fourth edition of the New Year's Shred on Cologne Germany. Let's celebrate the new year together!
Music: Young Sherman – Fear, Mac Demarco – Only You.
Miniramp Jam: Results
Benni Petry (GER/ Bremen)
Gero Placheta (GER/ Cologne)
Vert Jam
Jo Zenk (GER/ Munster)
Erik Droogh (NL/ Amsterdam)
Park Jam
Jo Zenk (GER)
Eugen Enin (GER) & Benni Petry (GER)
Rookie of the Day Award: Maurice Bohr (GER)