Thursday, February 23rd, 2017
Last weekend the world's biggest skate competition was held in Eindhoven, Holland. Winterclash is a gathering of skaters from all over the world to celebrate their love for skating, and to decide who is the Winterclash winner.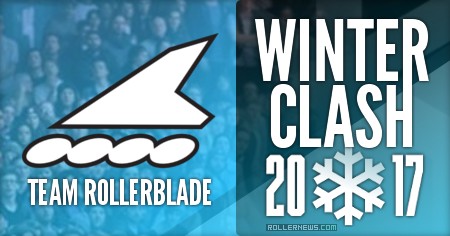 First of all, we would like to congratulate our team rider from Rollerblade Spain, Juninho Morais. He took 2nd place in the amateur competition. Morais represented for Rollerblade with big tricks combined with technical grinds. Keep an eye on this up-and-coming shredder!
The Rollerblade team riders got the chance to skate the park on Thursday before the madness of the event started. The 2017 pro team had a session with the local Rollerblade riders from Europe. All the riders skate the Solo Team skate or the NJ5 skate.
Team Rollerblade: Pre-Winterclash get together
The Rollerblade team riders met each other a few days before clash to get some pictures done at United Studios. After the PR moment the riders visited Sven Boekhorst's local skatepark: World Skate Center.
More Winterclash Media.
2017 | 2016 | 2015 | 2014 | 2013 | 2012 | 2011 | 2010 | 2009 | 2008 | 2007 | 2006 | 2005.