Wednesday, January 13th, 2016
Winterclash 2016: February 19-20. Area 51, Eindhoven.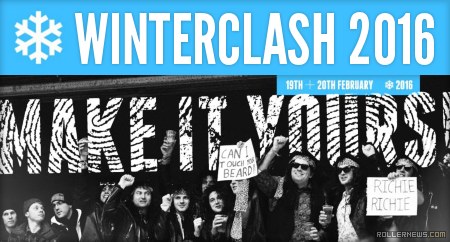 Post by Jojo Jacobi on Facebook | Donate on Gogetfunding.com.
The truth about Winterclash today. I was hoping never having to do this, but here we go, let's get naked.

As some of you might know, I'm the organizer of Winterclash, the world's largest Inline / Rollerblading core scene event with visitors from 35 different countries.

It all started back in 2009 when the Skatepark in Belgium burned down and we had to move Winterclash to Holland in only one day. I lost a few thousand Euros, but in the end everything went ok and at least the event did happen. In 2010 I wanted to put all on one card and had the idea to put blading back on the map of the public eye. We organized Winterclash in Berlin, in a huge event arena. We had to rent a mobile skatepark, build and installed everything from scratch, hosted an insanely expensive Aftershow party and most importantly: we invested a huge amount of money into marketing, radio, TV, posters all over the city, that kind of things. We wanted the non-blading public to join our event and experience blading at it's best. We wanted to push and help the sport grow.