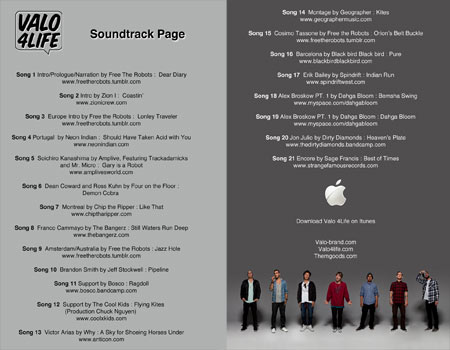 HD Picture on valo-brand.com.
Intro, Prologue, Narration by Free The Robots: Dear Diary
Intro by Zion I: Coastin'
Europe Intro by Free the Robots: Lonely Traveler
Portugal by Neon Indian: Should Have Taken Acid with You
Soichiro Kanashima by Amplive, Featuring Trackadamicks & Mr. Micro: Gary is a Robot
Dean Coward and Ross Kuhn by Four on the Floor: Demon Cobra
Montreal by Chip the Ripper: Like That
Franco Cammayo by The Bangerz: Still Waters Run Deep
Amsterdam, Australia by Free the Robots: Jazz Hole
Brandon Smith by Jeff Stockwell: Pipeline
Support by Bosco: Ragdoll
Support by The Cool Kids: Flying Kites (Production Chuck Nguyen)
Victor Arias by Why: A Sky for Shoeing Horses Under
Montage by Geographer: Kites
Cosimo Tassone by Free the Robots: Orion's Belt Buckle
Barcelona by Black bird Black bird: Pure
Erik Bailey by Spindrift: Indian Run
Alex Broskow PT. 1 by Dahga Bloom: Bemsha Swing
Alex Broskow PT. 1 by Dahga Bloom: Dahga Bloom
Jon Julio by Dirty Diamonds: Heaven's Plate
Encore by Sage Francis: Best of Times

Support Rollernews:
make your purchases on
Amazon via this link
. Thanks!
Tags: 4life, soundtrack, valo