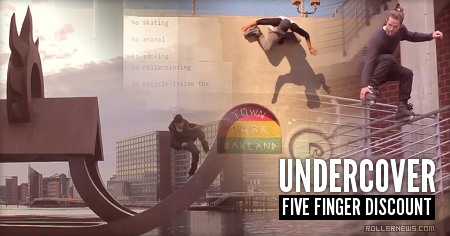 Undercover wheels presents Five Finger Discount, covering the summer of riders and supporters from Southern California: Chris Calkins, Mike Obedoza, Jeremy Soderburg, Gregory Preston, and Steven Cortes. as well as out of towners Eugen Enin, Justin Brasco, and Richie Eisler.
Video Offline.
Filmed by Jeremy Soderburg, Mike Obedoza, Juan Martinez, Erick Rodriguez, Shaun Cortes, Ray Ramirez, Gregory Preston, Daniel Scarano, Josh Tolle, Lonnie Gallegos, Richie Eisler, Eugen Enin, Lucas Palmer, Mike Torres & Kevon Thompson.

Support Rollernews:
make your purchases on
Amazon via this link
. Thanks!
Tags: five finger discount