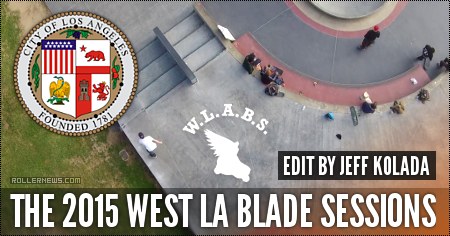 Just a group of guys who rollerblade around Los Angeles. Preferably the west side of Los Angeles. There was no plan going in to make any edit, so all the skating you'll see was performed for the love of the sport and rollerblading culture. This is the result of the 2015 West LA Blade Sessions.
Skaters (by Appearance): Nick Brenden, Andrew Ames, Chris Howaniec, Javier Garcia, Jovan Luna, Jeff Kolada, Garrett Kanter, Jonathan Labez, Tyrone Fitzgerald, Brooks Nelson, Danny Ruelas, Jesus Roque, David Paul Larsen, Mark Yamasaki, Eric Piper.
Filmed by Jeff Kolada, Nick Brenden, Javier Garcia & Garrett Kanter. Edited by Jeff Kolada. Graphics by Nick Brenden. Music: Ice-T – Power (instrumental), Greyboy Allstars – V-Neck Sweater, The Blackbyrds – Rock Creek Park. Visit Jeffkolada.com.

Support Rollernews:
make your purchases on
Amazon via this link
. Thanks!
Tags: jeff kolada, los angeles