Wednesday, May 18th, 2011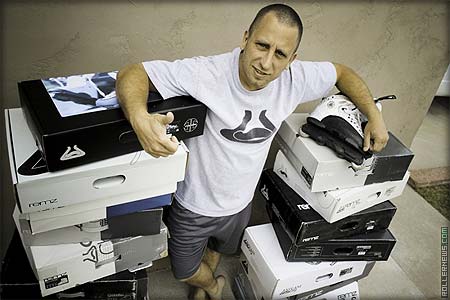 Kato Mateu Interview by Sophie Planque. Kato lives in San Diego, grew up in Montpellier (21 novembre 1974).
Everybody knows him, or already heard of im, Kato Mateu is kind of a "daddy of rollerblade". Some of us criticize him, and others buy his skates! I wanted to meet him (actually by phone), to let him share his experience and vision of rollerblade. Interview.

Sophie Planque: Hello Kato! You're married, you are a dad, and run Remz. How do you balance it all?

Kato Mateu: I met my lovely lady, we got married and have been blessed with two beautiful little girls (3 and 5yo now). I do my best to spend as much time as possible with them, I think it's important to spend quality time with family, especially at that age. And it's pure happiness.

When I leave on tour or to a contest with the boys, especially if it's for extended periods of time or if I'm far away (europe for example) it does shake things up a bit, but usually I manage to be working on Remz during the day and spend time with the fam in the evenings.

Of course I mix in a little skate session every now and then with the friends, good meals, and a little sport. You see, I do everything I can to keep a simple life.

Sophie: And what did you study?

Kato: The "blader wanderer" schools (laughs). I dropped out of high-school in my last year. I loved math but not the race to graduation. I didn't see it as a goal in life.

I didn't feel like a blanket of diplomas would help me, I usually do better when I'm under a certain pressure in life. That being said, dropping just before graduation was also just plain youth rebellion of course.

After that i went through the somewhat normal rebellious faze of a 16-17 yo, got a bit into trouble, lots of graffiti, and also started traveling much. I don't regret anything, it all worked out for me. I'm conscious now that I must be a somewhat isolated case, and that graduating might not be a bad idea after all! (laughs). […]
Point of view, Kato Mateu: we were building our own skates.
Version Francaise: Point de vue, Kato Mateu: On fabriquait nous meme nos rollers.