Sunday, August 17th, 2014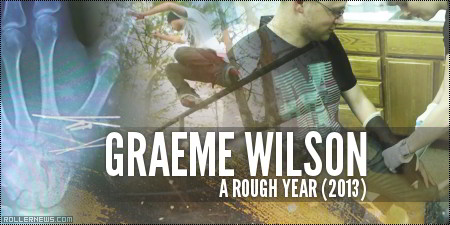 2013 was a rough year. I shattered my left hand, damaged a ligament in my right hand, chipped my teeth, damaged my left TMJ, broke 2 ribs and messed up my lower back throughout the year. Showing that I was clearly a responsible young man, I also got married.

It wasn't a great year for rollerblading, but this is the best of what went down. 2014 is already starting out to be a pretty good year. – Graeme Wilson.
Filmed by Ian Engerbretson, JD Morrow, Geoff Phillip, Ivan Gwynn and Evan Wilson.
Music: The London Souls – She's So Mad (get the song on Amazon.com
).