Monday, February 23rd, 2009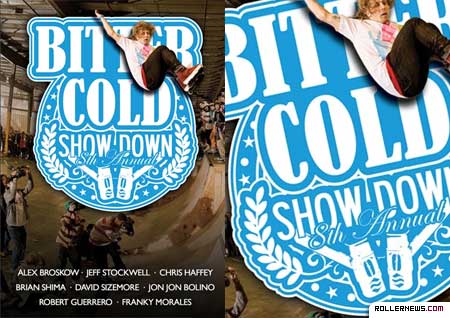 The 8th annual Bitter Cold Showdown was undoubtedly the best year in the events history.

Franky Morales, Brian Shima, Chris Haffey, Jeff Stockwell and Alex Broskow battled to the very end for the title of Bitter Cold Showdown champion.

The 2008 DVD features every exciting trick from the contest along with commentary from some of the best rollerblader's in the world.

In addition to the contest, Kevin Dowling takes you through the Official Industry Tradeshow to give you an inside look at what's going on with some of your favorite rollerblading brands.

If you haven't had the opportunity to experience the Bitter Cold Showdown first hand or are one of the hundreds of attendees eager to see everything you missed, pick up the Bitter Cold Showdown 2008 DVD and enjoy every moment of one of the world's biggest rollerblading events.
Part 2 & 3:
(more…)