Rollerblade is proud to present you Cityhopper World. 5 years ago the Cityhopper crew started with an idea that quickly made a huge impact in the skating scene. Here you see the latest installment: Cityhopper World.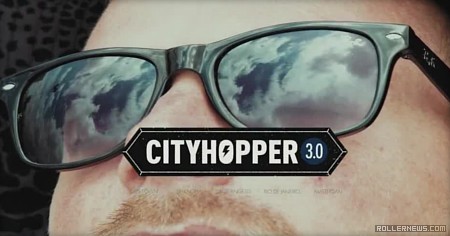 In this video the team of passionate skaters and filmmakers take you on a journey across the globe. The team visited Rio de Janeiro, Los Angeles, Shanghai, Cape Town and Amsterdam. Packed with their skates, camera gear and the jumpramp they bring you world-class tricks on world famous spots.
Edited by Remy Cadier. Camera: Remy Cadier, Axel van Dijk, Niels Groenendijk. Graphics: Niels Groenendijk. Music: Producedbyshroom.com.
City Hopper 1 (2012): Video (Best-of) | Documentary | Trailer.
City Hopper 2 (2014): Video + Documentary | Trailer.

Support Rollernews:
make your purchases on
Amazon via this link
. Thanks!
Tags: cityhopper, cityhopper world, sven boekhorst