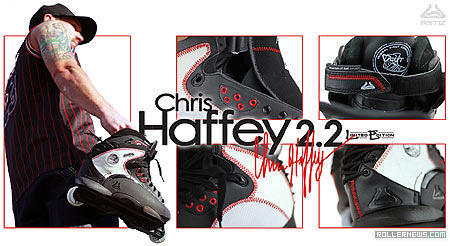 Meet the new spiced up version of Chris' acclaimed Signature model, a true weapon in disguise, the Chris Haffey 2.2.

Along with conceiving the low-cut skin design pioneered on the 2.0 and matching his own "V-cut + strap" setup, Chris personally put a multitude of samples through the test to meet his high technical expectations.

This new Limited Edition 2.2 features a groovy colorway that is sure to turn heads and includes all the advanced features that made the 2.0 and 2.1 a top-seller such as the redesigned rear lacing system, the precise neoprene liner with softer shock-absorber, strong hockey laces giving the skate a distinctive and athletic look, and the new concept of High Resilience (HR) construction providing optimum control & foot support.

"It sucks your foot in there and keeps it right where it needs to be so you're in complete control at all times" says Chris about the Remz HR concept that he helped develop.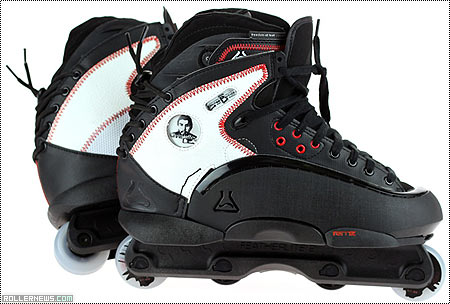 Features
Classy and Stylish low-cut design and new Colorway by Chris Haffey
HR 'High Resilience' skin concept
High-end ergonomic Remz neoprene liner built to Chris's specifications
Chris Haffey original freedom-of-feet setup w/ Rear lacing system
Reinforced ankle strap (w/ plastic buckles included in the box)
GC FTL2 frames
57mm / 88a Remz wheels
ABEC 5 bearings

Support Rollernews:
make your purchases on
Amazon via this link
. Thanks!
Tags: chris haffey, remz, remz haffey