The Montreal Classic held at South Parc Skatepark was a great comp. The finals was very intense. Haffey laced 540 true porn, frontside backslide to ao top soul 720 out, and more. Which lead him to win!

Roman Abrate also had an impressive performance along with all the other riders in the finals.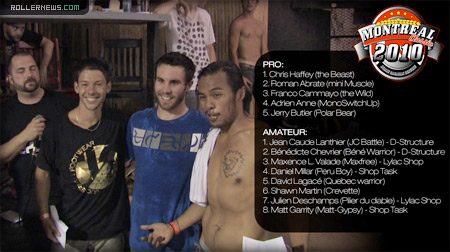 Video Offline.
Thanks Shawn for the video & Guillaume Latrompette for the pic.
Results
Pro final results
1. Chris Haffey (the Beast)
2. Roman Abrate (mini Muscle)
3. Franco Cammayo (the Wild)
4. Adrien Anne (MonoSwitchUp)
5. Jerry Butler (Polar Bear)

AMATEUR ranking
1. Jean Caude Lanthier (JC Battle) – D-Structure
2. Bénédicte Chevrier (Bene Warrior) – D-Structure
3. Maxence L. Valade (Maxfree) – Lylac Shop
4. Daniel Millar (Peru Boy) – Shop Task
5. David Lagacé (Quebec warrior)
6. Shawn Martin (Crevette)
7. Julien Deschamps (Pilier du diable) – Lylac Shop
8. Matt Garrity (Matt-Gypsy) – Shop Task

Support Rollernews:
make your purchases on
Amazon via this link
. Thanks!