Thursday, March 20th, 2008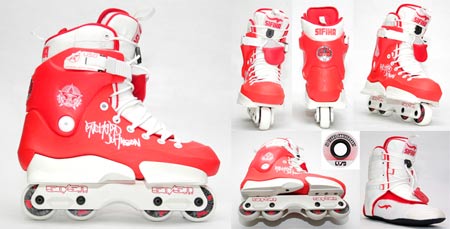 Enlarge the picture.
The 10 years USD anniversary skate / Rachard Johnson promodel, The most exclusive skate out there is now availiable!

USD classic throne, NEW Sifika SL515 liner, 50/50 Balance core pro frames, M1 pro wheels, Abec 7 bearings and 8 extras limited edition USD wheels!
Be-mag issue 25: Rachard Johnson Profile.
Download: bemag_issue_25_rachard_johnson.pdf
up: Rachard Johnson and Alex Miranda chilling in California.
Via The Conference. Thanks Kenneth & Blah2.