By Mathias von Gostomski. Featuring Dustin Werbeski, Sam Crofts, Nick Lomax & Carson Starnes.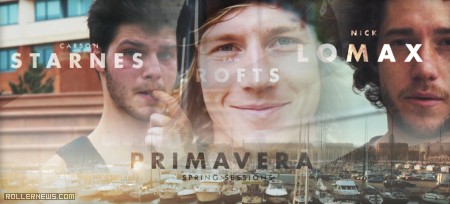 The next episode of the Homies blading in Barcelona. Same idea as last time, a camera and a lens, no toys, except one day we had a gimbal.

As the serious filming is already taken care of by the rest of the crew I can experiment and I like to take an approach where architecture or the spot is as important as the trick that is done on it.

On the other hand I have to try and make the other filmers disappear, which is especially hard if they are on the fish. Not to ruin any of their footy, I won't get any fisheye shots, maybe next time.
No clips of me this time (haha) I was too lazy to set up the camera in somebody else's hand to film my sub par tricks. If you want to be in the summer episode just say Hi. – Mathias von Gostomski.
Music: Phon.o – Yudasi, Phon.o – Black Boulder, Hiatus – A silver exit.

Support Rollernews:
make your purchases on
Amazon via this link
. Thanks!
Tags: barcelona, carson starnes, mathias von gostomski, nick lomax, sam crofts