The Booted posted the B-Roll of Alex Burston: Days & Nights in London (2015).
Back in August 2015 Alex Burston and Jon Lee teamed up to film an edit in London. With 10 days to film the pair weren't going to let a little bit of inclimate weather dampen their spirits. After all, this is England.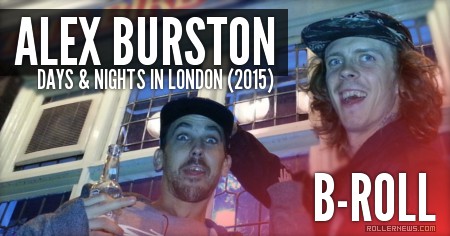 With Jon's infamous attention to detail in the editing suite the section took a fair few months to come together. I think we saw at least 10 revisions of the edit along the way but the end result was well worth the wait.
Throughout the project the idea of making a VOD and donating a percentage of the money to charity was thrown around. Eventually it was decided that the charity would be Centrepoint, a London based charity that helps give homeless young people a future. A truly selfless and completely commendable act from Jon and Alex.

This 32 minutes of b-roll from the 10 days and nights also features Joe Atkinson as well as London residents Blake Bird, James Bower, Umberto Toselli engaging in antics across the city. Filmed and edited by Jon Lee.

If you haven't seen the final video yet you buy Alex Burston: Days & Nights in London here.
Previously: Alex Burston: 7 Days in London by Jon Lee (2014).

Support Rollernews:
make your purchases on
Amazon via this link
. Thanks!
Tags: alex burston, alex burston days and nights in london, jon lee, london, the booted