Tuesday, November 29th, 2016
Todd and Joey drink coffee and watch the 2001 rollerblading video "What Do You Believe In?" from Arlo Eisenberg and Joe Navran.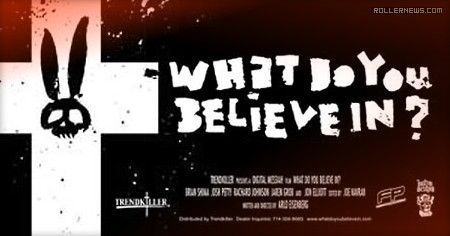 Written and directed by industry pioneer Arlo Eisenberg, edited by rollerblading's most influential filmmaker Joe Navran (FOR II, Elements, Coup De Tat) and produced by Mindgame's Shane Coburn, "What Do You Believe In?" set out to completely re-imagine what a rollerblading video could be.
"What Do You Believe In?" features five of the brightest stars in rollerblading: Brian Shima, Jon Elliott, Josh Petty, Rachard Johnson, and Jaren Grob. The video focuses on their skating, which is some of the best ever captured on film, but it is complemented by a surreal story line which weaves in and out of their sections.