Posts Tagged 'scotty olsen'
Thursday, December 6th, 2012
Saturday, August 11th, 2012

Brian Aragon showing love for one of his homies and teammate Mathias Silhan with this full length section rocking his new pro skate.

Shot and edited by Scotty Olsen, the edit showcases some classic Colorado spots along with some new, amazing looking skateparks.
Solid and precise as always, Brian definitely lays it down. Stoked! New Razors Team DVD 'COTF' dropping Fall Twenty Twelve.
Song: Kanye West – New God Flow? ft. Pusha T.
Tuesday, October 4th, 2011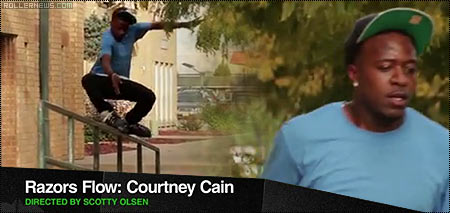 Filmed and Edited by Scotty Olsen. Courtney Cain came up on about 45 minutes in between and picking up his daughter, so he picked up the horn, got in touch with Scotty and set up a lil lunch time session on a local handicapper.

Solid, textbook blading.. CoCain just having fun.