Tuesday, January 14th, 2014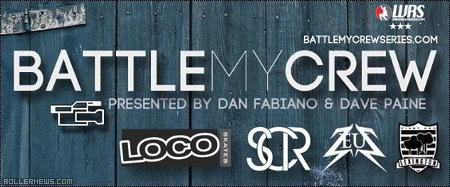 Battle My Crew is cancelled. Dave Paine and myself wished for the best and pushed to the longest extent to try to accommodate all the crew suggestions and requests. Due to the lack of submissions on all three deadlines and including Dave Paine's tribulations over the last 18 months, it brought the event and contest to a fatal halt.

We both would like to thank all of the participants, which include sponsorships, donors, and crews that had the patience to deal with the extended deadlines and trusting us with your investments. We would also like to thank the 6 out of 35 crews that actually followed through and attempted to submit final contest edits on any of the three deadlines that were officially posted over the last 2.5 years.

This was a dream for both Dave and myself to bring back VG and also Battle My Crew to enhance participation in our industry/ community. Unfortunately we will have to try this at a later date, if we see a spike in the outlook of our rollerblading community.

Again thank you for your contributions, comments, concerns and overall support over the years. Maybe time will be on our side in the future!

For all those concerned about refunds: we started the refund process last week, and will continue to issue refunds to all sponsorships and donors. Any crews that submitted final contest entries will receive full refunds. All other crews that did not submit an edit will receive refunds based on a personal request.

Keep blading! Note that this Facebook page and the dot com will be erased and deleted in 14 days once all refunds have been confirmed. – Dan Fabiano (Facebook Post).
BMC5 Entries: New Jersey, Los Cucarachas, Greece, Cleveland + Akron, Savage.