Thursday, December 15th, 2016
Frame Issue 2 had its premiere last weekend, the video was fully available on Vimeo for 2 days. If you want to support the project, you can rent/ buy the VOD here.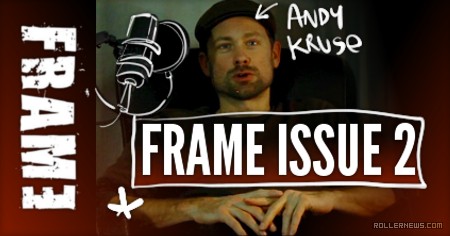 Frame Issue 2 presents: International Extreme Sports Stars. This film deals with the strong philosophy behind extreme sports from around the world: what makes a skater attempt seemingly impossible tricks over and over again?
Andy Kruse: Interview
Why is that in-line skater prepared to risk a hospital visit when trying to land that ludicrously difficult jump? Frame Issue 2 proves that the world is rife with people who have a burning desire to push beyond boundaries and limits while striving to motivate and inspire its viewers to get up off that couch and dare to implement their own dreams!

The film features hugely talented home-grown Extreme athletes such as Jyri Pitkanen, Finnish Skateboarding Champion (amongst many other awards). Jyris charm and natural acting skills have previously conquered the medium of Finnish televion (e.g, Nelonens' PlayTV, CapturedTV and Busteri). Also featured is Multi-disciplined Championship Gold Medalist, Konsta Kortteinen, who has a long history in skating. Also featured are international talents such as, among others, in-line skating legend Andy Kruse (USA) and skateboarder Alex Lekinho (Brazil), the latter being known worldwide for his extremely high jumps.