Spent the last few months blading, filming and hanging out in Tianjin City, China. Tianjin is indescribably amazing! The culture, the people and the city itself are all things that make this place one of the raddest cities I've ever visited!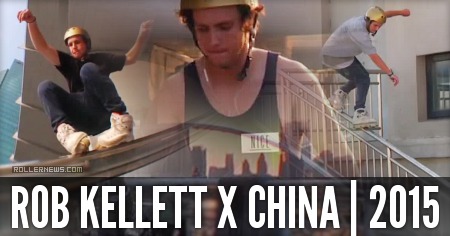 Out in the streets on the hunt for spots every day we could, Paulie Haack, Oliver Czaja and myself managed to stack a bunch of clips from our time there. China is like something else when it comes to street spots, perfect ledges, dodgy chrome rails, random architecture, amazing views, and seemingly not a single security guard that doesn't like rollerblading!
Skating starts at 1:40.
For this section I tried to do something a little different, didn't want to use the typical "song for an edit", so I hunted down some old school chinese funk and went with that! Hope y'all feel it! – Rob Kellett. Filmed by Oliver Czaja, Paulie Haack, AJ Stine, Mitch Macrae & Rob Kellett. Edited by Robert Kellett.
Previously: Robert Kellett (Remz Australia): 2013 Edit.

Support Rollernews:
make your purchases on
Amazon via this link
. Thanks!
Tags: china, robert kellett, tianjin