Update: added Full Video.
The first Estonian full length blading movie! 5 different cameras, 3 years of filming and not filming, bullshit, adventures, comps, girls, drinking, injuries, traveling, partying, working our asses off and here you have it: WORKOHOLICS.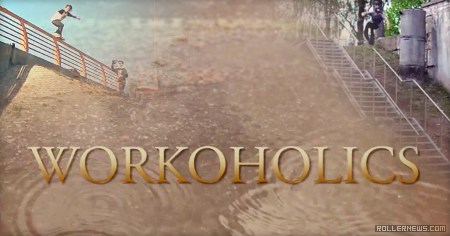 Includes full sections of: Evert Lubja, Indrek Uibo, Rene Lutterus, Aleks Verbenko, Joonas Vahar, Jako Robin Aasmaa, Kaili Randmae & Mats-Kaarel Ruus. Go grab yourself a nice beer, take 30 minutes, and enjoy the Estonian rippers shred!
Full Video
Teaser
Filmed & edited by Rene Lutterus. Additional filming by Priit Palumaa, Dmitri Shushuyev, Henri Holland, Evert Lubja, Martin Niin, Joonas Vahar, Mats-Kaarel Ruus, Aaron Turner, Jon Fromm, Erik Orgo, Arto Arukuusk & Karsten Boysen. Music: Suur Papa – Naita Mulle Kuningat (Intro) feat Shromik. Beat & Prod: Shromik
Bonus: Evert Lubja: Park Edit | Workoholics Promo on Youtube.

Support Rollernews:
make your purchases on
Amazon via this link
. Thanks!
Tags: estonia, rene lutterus, workoholics