Adapt, Facebook Thread: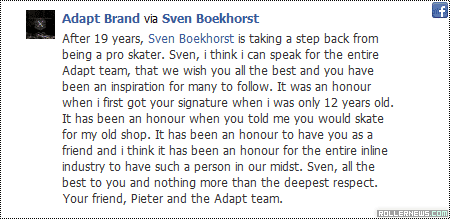 Blading.info Seven Boekhorst Interview:
You recently announced that the Winterclash will be your last competition ever. Do you want to tell us a little bit more? Why now, why the Winterclash and what's the whole feeling behind it?

I guess the main reason is my age, and that I don't care so much about competing anymore and haven't really for the last 5 or 6 years. I've competed in enough competitions. I picked Winterclash because it's the Winterclash, and it's in Holland. Sounds cool in combination.

That you're going to stop competing doesn't mean that you will slow down in blading, right? What else are you doing on blades right now?

At the moment I'm still blading and hopefully I can continue until I'm 70. Besides that I run my own show company, which also organizes contests and runs workshops. It's not 100% confirmed yet but the plan is that I'll get my own office in the new World Skate Center, so hopefully I'll do more and more stuff with this as well.

If someone is interested in booking a lesson, how can they reach you and can everyone be part of it?

Sure, send me an email — info@sb-events.nl
Sven Boekhorst interview on Spitsnieuws.nl
Dutch language, google translation.

Support Rollernews:
make your purchases on
Amazon via this link
. Thanks!