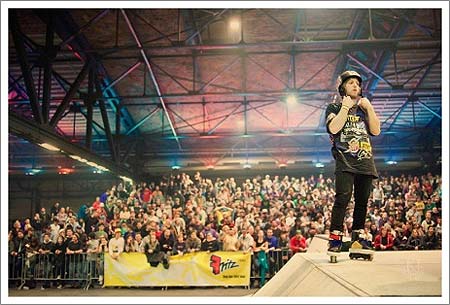 As it often happens, previously prepared plans tend to change unexpectedly. Originally, together with Basza and Kuba Urbanczyk, we wanted to release the Winterclash 2010 story as soon as possible, yet whole coverage, edits, comments and discussions around the biggest rollerblading event of the year, made us re-think some factors and led to conclusions which we want to share.

Common event-story usually includes subjective opinions of the author, which more or less become the picture of the event especially in the mind of people who didn't have a chance to experience it by themselves. Frequently the opinion is based on author's personal feelings – bad ones as well as the good ones.

Despite anything which can be told about 2010 edition of the Winterclash, one thing is clear – it will be part of rollerblading history. Everyone who attended WC 2010 personally, could see how many issues were taken into consideration by the organizers, and can evaluate the effort of Jojo and WC crew by himself.

The text below will not be a stereotype event-story. It will be a set of questions, which force those who will read it to very end to re-think own opinions about the most important European rollerblading contest. […]
Check the Winterclash 2010: Inmag Report.
up: Check Alchemy UK rider Andy Gilbert spanking the Winterclash course, edit courtesy of Jordan Maders. Via Kingdom.

Support Rollernews:
make your purchases on
Amazon via this link
. Thanks!
Tags: winterclash, winterclash 2010