Winterclash 2009 by Dom West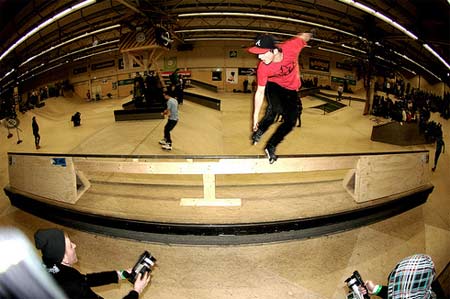 up: Photo by Thijmen Doornik (more pictures).
up: Author: Lovis Einsmann (Germany).
Featured Skaters: All the international Pros and Am's.
Date of filming: Saturday 14th 2009.

Travelling to Eindhoven in the Netherlands to the biggest event in rollerblading: The Winterclash.

Had a great time at the Area 51 Skatepark. A lot of thanks to Jojo Jacobi for making the Winterclash possible after all the trouble (the Newpact Skatepark burnt down completly).

Head to Head Battle:

The final is between Steven Swain from the U.K. and Brian Aragon from the U.S.A.

They skated on the big disaster box. First Brian landed a disaster hurricane topsoul, then Steven landed a disaster 540 truespin miszou. After this Brian was trying 540 backside savannah and Steven was trying fakie 630 to something. But with this it ended due to the lack of time. (Be-Mag Online).
Results:
Still waiting for the full & official Results.
AM: Romain Godenaire
PRO: Brian Aragon.
GIRLS: Fallon Heffernan.
Thanks Streettours.

Support Rollernews:
make your purchases on
Amazon via this link
. Thanks!
Tags: winterclash, winterclash 2009