Official video edit of the West Coast Contest 2016. The West Coast Contest is organized by the Bordeaux Rollerblading Association (FR) every year since 2011 and is part of the National (FFRS) and international (WRS) leagues competition.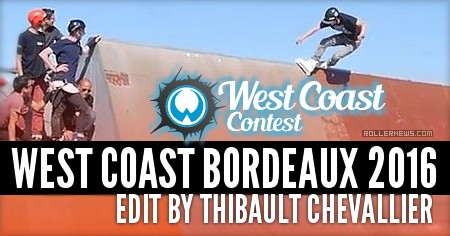 Featuring Roman Abrate, Manon Derrien, Stephanie Richer, Nicolas Bernardo and many other. Filmed and edited by Thibault Chevallier, additional filmers: Medhi & Pierre Dugarcin.
Music: Griz – It's All Good.
Pro Results (Full Results)
Roman ABRATE
Jeremy MELIQUE
Nicolas SERVY
Previously: Guillaume Le Gentil & Romeo Stocchi at West Coast Contest 2016 (Bordeaux, France): Clips | Visit WestCoastContest.com.

Support Rollernews:
make your purchases on
Amazon via this link
. Thanks!
Tags: bordeaux, france, west coast bordeaux, west coast bordeaux 2016