First spotted on September 2012, here are the USD Carbon III Franky Morales.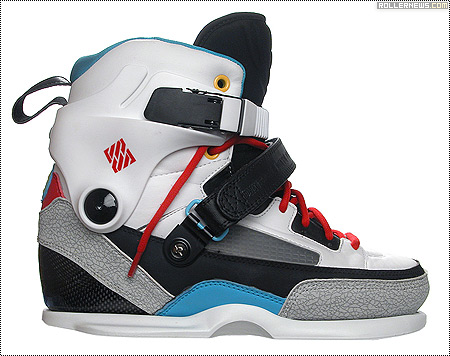 Franky Morales loves the USD Carbons, and Franky Morales loves his sneaker collection.

When given the opportunity to create a pro skate to his own specifications, he choosed to mix a pair of his favourite sneakers with a pair of USD Carbon 3's.

Franky has always stood out for his trademark style, and these skates underline that – they will not go unnoticed!
Technical Details

This is a real softboot hybrid that lasts even longer and includes a cuff for improved support and flexibility. This cuff, which has been created with an exclusive mold, includes a v-cut cuff which matches the enhanced lining of the skate. The improved flex thanks to this new cuff means that there is less stress on the inside lining allowing for longer life, perfect heel lock and, all round better performance.

The flex is also supported by a unique tongue, a one piece construction made from different foams allowing for great comfort, perfect flex and no wrinkles or surplus material that could cause blisters.

We also redesigned the internal structure making the carbon lower, with a new shape. We built in more flex zones to accommodate the additional cuff while maintaining plenty of support to do any trick you can imagine and we made the crucial enhancement of superb forward flex being implemented into the design, a real bonus when it comes to your jumps and landings.
The Carbon III Franky Morales includes
5 year guarantee for the carbon shell. Warranty against breakage while using it skating. Note that the Carbon shell will not degenerate with time or usage.
Shoe-like fit. Shoe-like appearance.
1035g including soulplate in size 41.
35% less volume than that of a standard hard boot.
25% less weight than a standard hard boot.
Total control with direct power transfer.
Low cut cuff with more lateral support and enhanced forward flex.
Rear V-cut.
New Powerslide Slimfit innersole.
Neoprene and Microfiber interior lining for optimum control, last and comfort.
Compatible with the Carbon soul plates, thin, light, high performance design.
Also fits the new USD VII plate.
Strong real 2,5mm thick Leather and artificial Nanoleather upper with perfect wrap around.
New aluminum buckle.
New one piece tongue including flex cuts.
Customizable cuff, buckle, hinge, laces and soulplates.
Front and rear flex cut.
Available on Grindhouse (309,95 EUR | 387 US $).

Support Rollernews:
make your purchases on
Amazon via this link
. Thanks!
Tags: customs, franky morales, usd, usd carbon, usd franky morales, usd franky morales 1