On Saturday Aug 27th veteran Rollerblader Marco De Santi opened up his home & his amazing vert ramp to Inline Skaters from all over the World to compete in the first ever USA Halfpipe League Competition!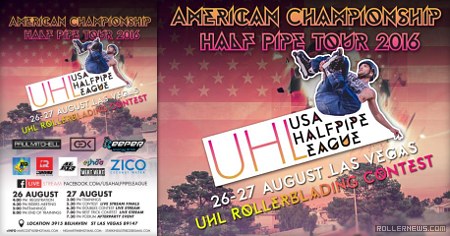 Currently performing in The Beatles "LOVE" by Cirque Du Soleil we're all grateful that Marco had both the time & the passion to host this competition.
With the help of sponsors and fellow Pro Nel Martin this was the first time an event of this kind has presented itself in the United States in well over a decade! It was an incredible experience and everyone really came together to make this a huge success.

This is a showcase of the talent that traveled to Las Vegas, Nevada to compete. "B-roll" coming soon!

Thank You to Gadgik, Paul Mitchell, KeeperEnergyDrink, RazorSkates, and Reverse for their support!
Results
Rafael Lima ( Sao Paulo, Brazil )
Otto Bolanos ( Columbia )
Pavel Mitrenga ( Sofia, Bulgaria )
Ernesto Borges ( Columbia )
Boris Grozev ( Sofia, Bulgaria )
Leo Riot ( Las Vegas, USA )
Nick Calderon ( Columbia )
Dania Amman ( Switzerland )
Tony Rivituso ( Las Vegas, USA )
Dereck Duarte ( Las Vegas, USA )
Amy West ( Long Beach, USA )
Best Trick: Colin Mcleod ( Las Vegas, USA )
Judges: Marco De Santi, Nel Martin, Miguel Ramos. Music: Gotan Project – "La Gloria" (Pozerok Remix), Gotan Project – "Panamericana". Filmed & Edited by @HVR_Nomad.

Support Rollernews:
make your purchases on
Amazon via this link
. Thanks!
Tags: las vegas, marco de santi, vert