Sunday, July 5th, 2009
quoting Tim Parker:
Euro exclusive is the Blue Valo TV2 version, I know the white ones have been around for a while but im not sure if people have seen them as white / grey which is how they will be released judging from seeing them on Locoskates.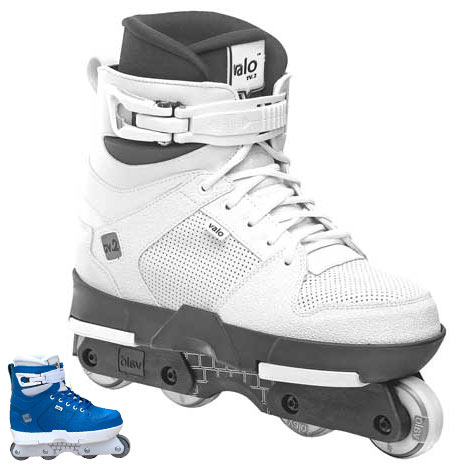 quoting Locoskates:
Valo TV2 in all their glory.

The Valo TV.2's are great because they come in a whole bunch cheaper than the other new Valo releases but are no different in quality.

With all the style, quality and features you've come to expect from Jon Julios brand these skates are a no brainer.

A slick trainer look, improved comfort liner, low cuff and a flat set-up of 8 Valo wheels with ABEC 5 bearings the Valo TV.2 has proven to be a best seller in it's previous black colourway.

With the slick new colours for '09 these too are a sure fire winner. Other fantastic features include extra wide soul plates, chunky backslide plates, memory buckles (so you don't have to keep remembering how tight you like it), the awesome Valo stock frame and a hard wearing outer skin over a supportive and protective inner shell.