Thursday, December 31st, 2015
Valo V chronicles three years in the ongoing history of rollerblading, from backyard bowls in Mexico to the architectural wonderland of Barcelona and along thousands of stateside miles to spare.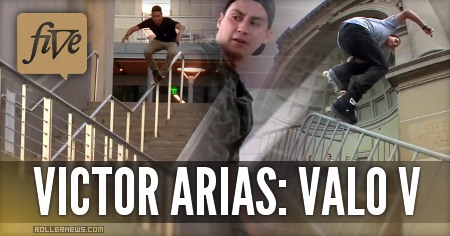 Celebrate a decade of Valo with Jon Julio, Alex Broskow, Erik Bailey, Brandon Smith, Victor Arias, Soichiro Kanashima, Cossimo Tassone, Gav Drumm, Ross Kuhn, Dean Coward, and the rest of the Valo family with V, a film by Ivan Narez.
Music: PYYRAMIDS – Smoke and mirrors.
Valo V (2011-2013), More Media: Intro, Alex Broskow, Jon Julio, Soichiro Kanashima, Dean Coward and David Sizemore, Erik Bailey, Brandon Smith, Gav Drumm, Ross Kuhn, Roskilde (Denmark), Kare Lindbgerg & Olav Norheim, New York, Portugal, Rooks & Crooks Tour, Erick Garcia & friends, Patrick Ridder, Kruise Sapstein, Matt Ladweski & Cosimo Tassone, Veemix, Trailer, Teaser, Book Making-of, Visit Valo5.com.
Valo 4life, Full Video: Intro | Europe Tour | Soichiro Kanashima | Dean Coward & Ross Kuhn | Montreal | Franco Cammayo | Amsterdam and Australia | Brandon Smith | Gavin Drumm, Andrew Jacuzzi, Erik Stokley & Keaton Newsom | Special Delivery, Montage | Victor Arias | Cosimo Tassone | Erik Bailey | Alex Broskow | Jon Julio | Barcelona | Finale | Soundtrack.